Minibike advanced riders Sheun Simmons, Daente Burgess, and Sandy Benevides took to the grid on Sunday [June 23] for motorcycle racing action.
A spokesperson said, "Simmons performed on top throughout the day with quick leads made very early in all three heats.
"One move almost cost Simmons his winning streak when, during the final lap of Heat 2, Simmons exited the track early, leaving Burgess to take what everyone thought would be a sure win. However, just prior to the finish line, after Burgess had almost reached the checkered flag, Simmons re-entered the track and successfully stole back the winning position."
Blair Jones [front] and Kenny DeSilva [back]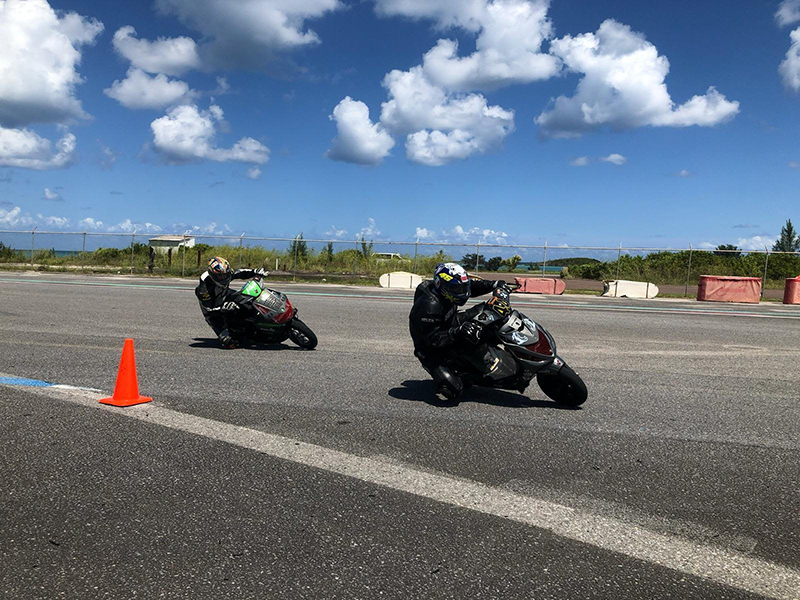 "In the Scooter 70 Class, the riders included Jacari Renfroe, Matthew Chinapoo-Simons, Blair Jones – the current points leader – and Aiden Lopes, who changed classes for the day and raced Marcus Pimentel's scooter due to his own bike having mechanical issues. The Scooter 4-Stroke class had Brandon Adams, who was poised to take over the points lead from Aiden Lopes, and new rider Bradley Adams, who was making his race debut. The Scooter Open class boasted veterans Ricky Wade and Kenny DeSilva.
"As the flag dropped, Jones got a great launch and took the early lead, followed by teammates DeSilva and Wade, then Brandon Adams on his newly purchased TRex, Bradley Adams, Lopes, Renfroe and Chinapoo-Simons."
Aiden Lopes: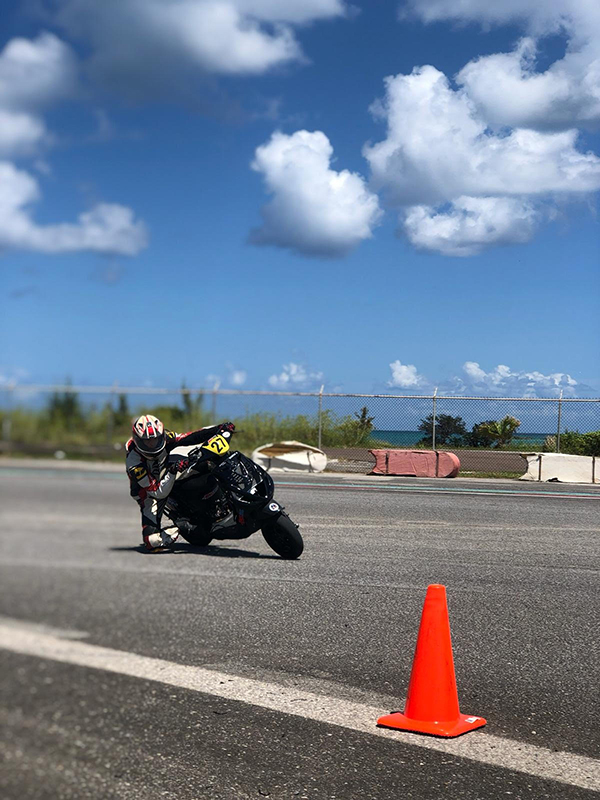 "At Casuarina Corner, Renfroe became tangled with another rider and slid out, taking him out of the race early. Lap three saw another rider taken down when Brandon Adams entered corner one and lost control of his bike. A very fast low side took both him and his bike almost to the fence, forcing the race to be red flagged and stopped.
"After Heat 1 resumed, DeSilva secured an early lead with Jones not far behind. Wade, initially believing them to be on a warm-up lap, meant he was left battling Bradley Adams to advance his position while Lopes and Chinapoo-Simons fought to catch them."
Kenny DeSilva [front] and Blair Jones [back]: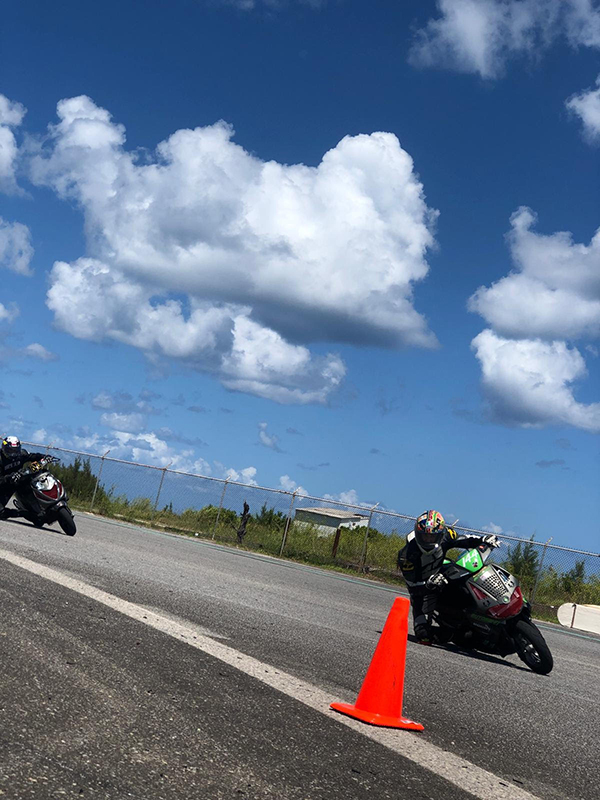 "Going into turn one of the seventh lap, Wade overtook Adams, with Adams then trying to push back, taking a tight inside line that proved to be detrimental. Too much speed forced Adams to lose the back end and slide into Wade, taking them both out.
"The accident brought out the second red flag, putting a final end to the heat. Luckily neither rider was seriously injured and both were able to walk away. With the halfway mark already passed, the race was called at that point and all riders were awarded their position on the lap before the red flag.
"Heat 2 saw no major setbacks while Heat 3 mirrored the first two races. Jones made his way to the front, followed closely by DeSilva, then Brandon Adams who had a renewed vigour after his first two race mishaps. Bradley Adams chased his brother, but a more confident Lopes was alongside him the whole race.
"DeSilva and Jones led the way from start to finish. Bradley Adams and Lopes battled lap after lap until Lopes had an unexpected mechanical failure mid-race which ended their battle, letting Adams take the spot above him. Lopes was able to get the bike re-fired and made it across the line to finish off the eventful day."
Results and Current Point Standings:
Heat 1: Minibike Advanced
1. Sheun Simmons
2. Daente Burgess
DNF Sandy Benevides
Heat 2: Minibike Advanced
1. Sheun Simmons
2. Daente Burgess
Heat 3: Minibike Advanced
1. Sheun Simmons
2. Daente Burgess
Heat 1: Scooter 70
1. Blair Jones
2. Aiden Lopes
3. Matthew Chinapoo-Simons
DNF Jacari Renfroe
Heat 2: Scooter 70
1. Blair Jones
2. Aiden Lopes
3. Jacari Renfroe
Heat 3: Scooter 70
1. Blair Jones
2. Aiden Lopes
Heat 1: Scooter Open
1. Kenny DeSilva
2. Ricky Wade
Heat 2: Scooter Open
Heat 3: Scooter Open
Heat 1: Scooter 4-Stroke
1. Bradley Adams
DNF Brandon Adams
Heat 2: Scooter 4-Stroke
1. Bradley Adams
DNF Brandon Adams
Heat 3: Scooter 4-Stroke
1. Brandon Adams
2. Bradley Adams
Minibike Advanced Points to Date:

Daente Burgess: 178
Sheun Simmons: 150
Jediah Cumbermack: 105
Scooter 70 Points to Date:
Blair Jones: 225
Marcus Pimentel: 60
Aiden Lopes: 60
Matthew Chinapoo-Simons: 52
Jacari Renfroe: 52
Scooter Open Points to Date:
Kenny DeSilva: 150
Ricky Wade: 131
Devon Bailey: 20
Scooter 4-Stroke Points to Date:
Aiden Lopes: 140
Brandon Adams: 126
Bradley Adams: 70
Jason Pacheco: 61
Sheun Simmons: 48

Read More About