Titan Express, in partnership with sponsor Department of Community and Cultural Affairs, is offering 'The African Bermuda Dispersion Cultural Bus Tour,' again in March, set to be held every Saturday from 10am – 12pm.
The sites being visited are Cobbs Hills Methodist Church, The Enslaved Graveyard at the Rubber Tree, & Sarah "Sally" Bassett sculpture.
A spokesperson said, "We call our tours, 'Sankofa Journeys,' and Sankofa is an African word and it means to go back and fetch it, and also based on a proverb that 'It is not wrong to go back for that which you have forgotten.'
"There is the symbol of a Sankofa Bird which has it head looking backward and the body positioned forward, with an egg in its mouth, and within the African Diaspora context this represents the need to reflect on the past to build a successful future.
"We can't change the past but we can learn from it and it is our responsibility to make the future better, not just for ourselves, but for the younger generations, and those yet born." Come and join in on a Sankofa Journey and learn stories of the Enslaved ancestors in Bermuda.
Tickets can be purchased on the website for a cost of $15. For more information email info@titantoursbermuda.com.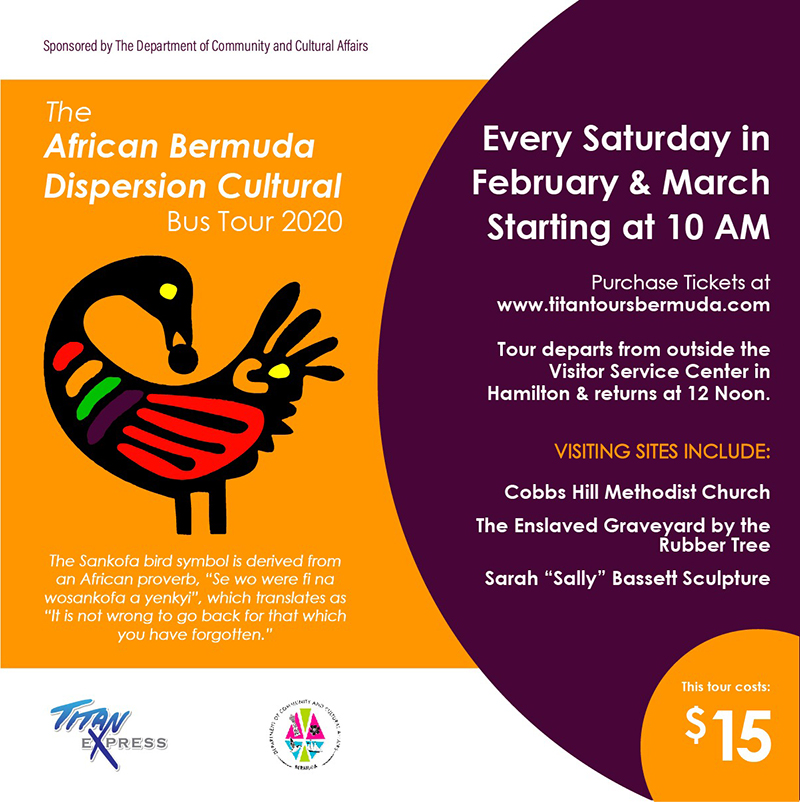 Read More About