[Written by Dale Butler]
With a number of clubs and organizations struggling to increase and retain membership, BMDS may have found the solution: develop activities that grab the young. The Summer Showcase held on June 18th at 8pm did that with 18 very confident and talented young musicians from a variety of local music and academic schools. Although the girls dominated the event I have no doubt that this foundation will see a balance in the future.
"If you cannot teach me to fly, teach me music," [J.M. Barrie] was an appropriate quote for many of us who love live music and know that youth always bring joy to our hearts even when they make mistakes.
I have been to many Premier's Concerts and experienced the pain felt when a performer makes a mistake[s] but this was not to be on Saturday. They were flawless and often played without sheet music. With many of the young people playing two instruments we received more than the $20 admission fee.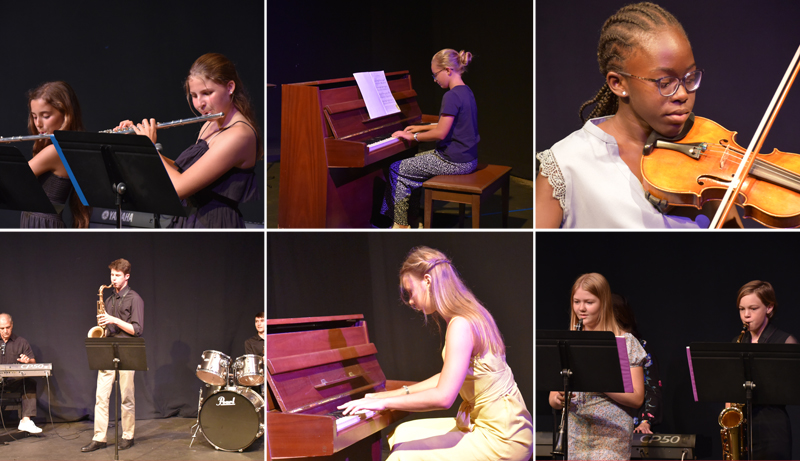 Given the strength of the performances, it is only fair that I list their names and songs. As an aside, this is critical because newspapers like The Bermuda Recorder did so and today grandchildren in search of family history get excited when they see their connections with the past. Second, I predict that a number of them will end up making an international name for themselves on the grand stages of world festivals and also here at home.
Flute Choir [Abigaelle Champ, Farah Craigs, Freja Dzurus, Alexandra Llewellyn-Jones, Robin Selley and Kalea Walker]
Flute Fiesta Colin Evans [accomp. by Lisa Maule]
Emma Hales : piano – La Chavaleresque Friedrich Burgmuller
Sam Webel: viola – Concerto in D Rondo 3rd Movement Franz Anton Hoffmeister [accomp. Daina Babeckas]
Kalea Walker: violin – Violin Concerto in G Major Haydn 1st Movement [accomp. Daina Babeckas]
Lilia Matcham: piano – Solfeggietto CPE Bach
Ava Gibson: violin – Czardas Vittorio Monti [accomp. Kerry Haslam]
Flute Choir with Nancy Smith and Sofia Sontag – Canon Johann Pachelbel arr. Arthur Ephross [accomp. Lisa Maule]
Function Band [Gareth Cooper [sax], Stan Gilbert [bass], Tom Ray [piano], Sam Webel [drums]
Take 5 – Dave Brubeck
It Don't Mean a Thing – Duke Ellington
Daina Babeckas: piano – Aufschwung Robert Schumann
Salayah Stange: vocal – Choose You Salayah Stange [original]
Isaac Moniz: piano – Katherine Stephen Chatman
Joy Yammine: piano – Mister Trumpet Man from 'New Orleans Jazz Styles' William Gillock
Tiny Trebles [Farah Craigs [flute], Aunika Dzurus [drums], Freja Dzurus [flute], Sienna Spurling [clarinet], Iona Van Niekerk [clarinet], Ryan Wright [sax]
We are the Champions – Freddie Mercury arr. Lisa Maule
Sweet Caroline – Neil Diamond arr. Lisa Maule
Tequila – Chuck Rio arr. Lisa Maule
[accomp. Lisa Maule]
The production crew of six [including students Cheyenne Tavares and Salayah Stange] are to be commended for ensuring a seamless evening. MC Kate Ross is a beam of sunshine who kept the evening fresh and bright so that we left feeling uplifted to have heard and enjoyed so many truly amazing young people who have a bright future ahead of them.
Such activities need to be encouraged and BMDS should develop its own "Youth Festival of Stars." With the proceeds earmarked to benefit the Charitable Trust's Scholarship Fund it is the road left to be traveled. Kudos for a great night out worth every minute of enjoyment.
In closing, I salute the students, parents and teachers who work hard and provide the resources for our youth to shine. Thank you to Lisa Maule for providing the opportunity for these young people to show their talents and for us to be able to appreciate them.
- Dale Butler is the Professor of Local Music and also writes restaurant, book and dance reviews for Bernews.

Read More About
Category: All, Entertainment, Music, News