News that 102 students graduated from Bermuda College, the CedarBridge Academy National Honor Society donated to the Transformational Living Centre for Families, and Sahlay Govia, Kierra Lee, Sarzjae Minors, Kneiko Brimmer, Seth Somner, Dante Trott, and Detre Virgil completed training in London as part of Bacardi's Shake Your Future' programme were all some of the positive news stories from the past week.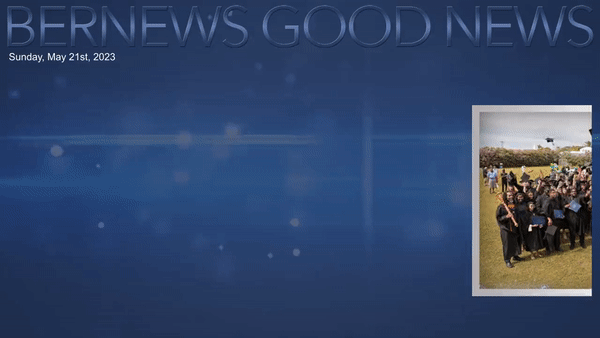 In additional good news, Erica Hawley earned the Carey Olsen Athletics Scholarship, Veranda featured Bermuda as one of "The 8 Most Beautiful Places in the World to Travel This August," Tyler Smith won a medal at the regional championships in the Caribbean, and Caitlyn Bobb won the 400m event at the ECAC National Championship.
Other good news stories included Trey Mallory earning the Colonial Athletic Association's Third-Team All-CAA Doubles recognition, centenarians being celebrated at the Strength for the Journey Mother's Day event, and CedarBridge Academy's StockXers Team winning the KPMG investment challenge.
We also posted various community photo galleries, including coverage of a Mother's Day themed sandcastle and the 2023 Santo Cristo Dos Milagres.
In an effort to highlight some of positive news happening in our community, we supplement our standard morning and evening email newsletters with a special Sunday "Good News" email newsletter edition, and also produce a highlight video and article which strictly focuses on the positive news about Bermuda and Bermudians from the past week. You can sign up to have the free newsletter delivered via email here, and/or access the links below.
For more positive coverage, you can also visit other websites in the Bernews Network; ForeverBermuda.com showcases uplifting Bermuda news and the tourism genre, BermudaCovers.com offers free Bermuda themed Facebook covers and phone wallpapers; and you can view over 250 'Good News' summary videos spanning back to 2017 here on Bernews.TV.
Links to some of the 'good news' from the past week are below:

Read More About