Female impersonator Mark Anderson appeared in yesterday's Bermuda Day parade, joining the dozens of floats, dance groups and performers. Mr. Anderson was also hoping to raise public awareness of today's [May 25] City Hall rally aimed at encouraging Government to include sexual orientation in Bermuda's Human Rights Act.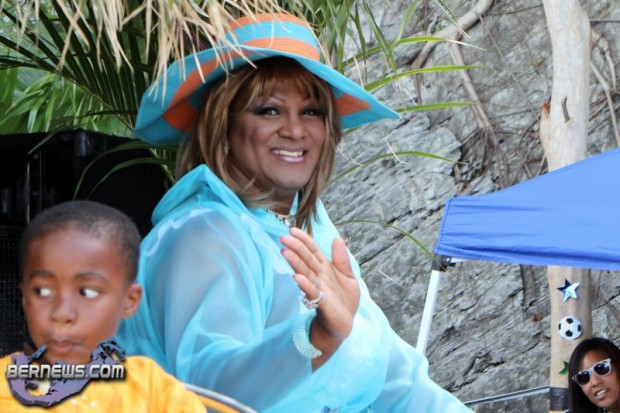 The entertainer — who styles himself as Sybil Barrington, The Queen of Bermuda– has been participating in the Bermuda Day parade since 2005.
He was abruptly dropped from the official list of parade participants in 2006 after complaints were lodged with Government claiming Mr. Anderson's drag routine did not reflect Bermuda's heritage. He took part in the event anyway and has since become a Bermuda Day parade fixture.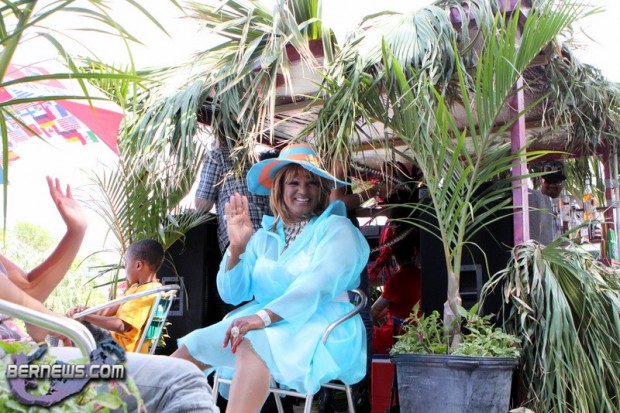 This is not the first time Mr. Anderson has used his participation in the parade to draw attention to community issues close to his heart.
Last year Mr. Anderson entered a float in the parade to pay tribute to 20 of the "most outstanding women of Bermuda." They were Dame Lois Browne Evans, Patricia Marirea Mudd, Pamela Gordon, Lady Gibbons, Dr. Barbara Ball, Sheila Ming Burgess, Dame Jennifer Smith, Terry-Lynn Doyle, Dame Marjorie Bean, Gina Swainson, Ruth Thomas, Diana Dill, Polly Hornburg, Ann Smith Gordon, Lady Gladys Hall, Olive Trott, Joyce Hayden, Rose Gosling, June Augustus and the late Olive Lady Cubitt.
Mr. Anderson said at the time: "In my eyes there are women who have made a real difference to our community. Some of these women have only been recognised in a small way but I see them all as our national heroes.
"The parade is an historical event and I want to shed some light on the achievements of these women, they fought hard to make Bermuda what it is today."
Read More About
Category: All, News, Style & Beauty