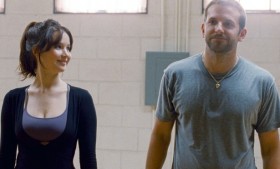 The Bermuda International Film Festival [BIFF] will be screening the quirky romantic comedy "Silver Linings Playbook" on Sunday [Feb. 3] at the Liberty Theatre.
Jennifer Lawrence has won the Golden Globe Award and the Screen Actors Guild prize for Best Actress in the box office sensation which is nominated for a total of eight Academy Awards including; Best Director, Best Actor, Best Actress and Best Picture.
Sunday's screening is a fundraising event for the upcoming 2013 edition of BIFF; the film will be showing for one night only. Tickets are $25 and are available through the Premier.Tickets website.
"Silver Linings Playbook" follows the story of Pat Solatano [Bradley Cooper, "The Hangover"], who has lost everything — his house, his job, and his wife. He now finds himself living back with his mother [Jacki Weaver, "Animal Kingdom"] and father [Robert DeNiro, "Raging Bull"] after spending eight months is a state institution on a plea bargain.
Pat is determined to rebuild his life, remain positive and reunite with his wife, despite the challenging circumstances of their separation. All Pat's parents want is for him to get back on his feet-and to share their family's obsession with the Philadelphia Eagles football team. When Pat meets Tiffany [Jennifer Lawrence, "Hunger Games"), a mysterious girl with problems of her own, things get complicated.
Tiffany offers to help Pat reconnect with his wife, but only if he'll do something very important for her in return. As their deal plays out, an unexpected bond begins to form between them, and silver linings appear in both of their lives.

"Silver Linings Playbook" Trailer
Read More About
Category: All, Entertainment, Films/Movies