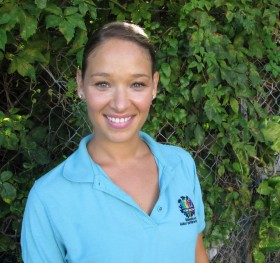 Tomorrow's Voices Autism Centre is has announced that Senior Verbal Behaviour Therapist Natasha Pedro-Petty has passed her Board Certification Test.
In June, Ms. Pedro-Petty received the passing result after working tirelessly towards qualifying for the Board Certified Behaviour Analyst Certification [BCBA].
She is now one of the three on-island certified Behaviour Analysts and one of the only Bermudians living and working in Bermuda who is a BCBA.
In order to become certified, Ms Pedro-Petty had to possess a minimum of a graduate degree, pass rigorous coursework and complete 1500 hours of supervised experience with another BCBA before sitting the exam.
Since 2007 she has worked with Tomorrow's Voices, returning to the organization as a full-time therapist in 2012 after completing her Master's Degree as well as working full-time on home/school programs for two children with Autism and other related disorders.
Tomorrow's Voices is the only organization in Bermuda that provides 1:1 therapy based on Applied Behaviour Analysis [ABA] and the organization now has two BCBA therapists, using evidence-based approaches to principles of behaviour in order to meaningfully improve socially significant behaviours for children with Autism Spectrum Disorders and Developmental Disabilities.
Ms Pedro-Petty said, "As far as I'm aware, I am the only Bermudian currently living in Bermuda who is a BCBA. So as excited as I am that I am now certified, there now lies a responsibility for me to inspire and mentor more Bermudians becoming certified to meet the growing need on the island.
"Working with this population is a challenging, wonderful and fulfilling career, and I love what I do every day."
Ms Thea Furbert, co-founder and Chair of the Board said, "On behalf of the Board of Directors of Tomorrow's Voices, we are ecstatic and proud of Natasha's accomplishment.
"Our goal at Tomorrow's Voices is not only to provide much needed quality services to those with special needs, but to also provide opportunities for Bermudians to become exposed to the Behaviour Analysis profession and train them to become certified.
"Natasha's journey is a model for any Bermudian interested in this field. Well done, Natasha."
For more information about Tomorrow's Voices, Behavioural Analysis, or Ms Pedro-Petty, contact Tomorrow's Voices at 297-4342 or email info@tomorrowsvoices.bm.
Read More About