[Updated] According to a recently released Bermuda Tourism Authority report, 768 visitors came to the island in October 2015 for 'America's Cup Vacation' while 409 visitors came for 'America's Cup Business'.
The Louis Vuitton America's Cup World Series was held in Bermuda from October 16-18, 2015, and saw elite teams from the USA, Sweden, Japan, Great Britain, New Zealand and France take part in the high speed sailing competition.
Chart extracted from the report showing the air visitor arrivals by type: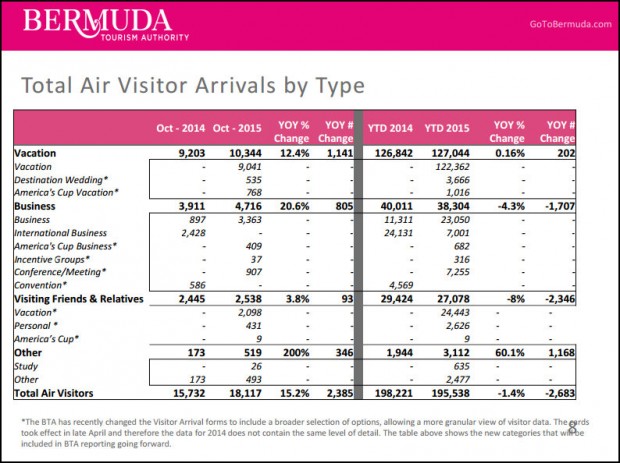 The BTA said they added the America's Cup categories to the arrival card earlier this year specifically to record the America's Cup impact on visitor arrivals, and as long as people complete the arrival card correctly, it provides a fairly accurate count.
The America's Cup purpose of visit is listed in three different categories in this report: vacation, business and visiting friends & family.
BTA video overview of new visitor arrival form system:
The BTA's recent stakeholder newsletter said, "An October jam-packed with visitor groups and events fuelled a 44% year-over-year growth in total vacation arrivals for the month.
"Air vacation visitors were up 12%, yacht arrivals up 13% and cruise arrivals spiked 54%. Total air arrivals [which includes business, conferences, visiting friends and relatives as well as vacation] were up 15% year-over-year. In the hotel sector occupancy was up 16% in October and revenue per available room surged 34% year-over-year.
"Although the Louis Vuitton America's Cup World Series made a sizeable impact on the overall performance for October, the combination of the Royal Bermuda Regiment Tattoo, the Nike Golf PGA Team Championship of Canada, Argo Gold Cup, Round the Sound Swim, Commonwealth Parliamentary Association meeting and a regional conference for business leaders collectively made a positive impact."
Update 11.02am: We have been told that these figures do not include anyone who visited for the event on a work permit, such as concert performers, media etc. The figures from that area will be in the Economic Impact Report that the ACEA is expected to release in the future.
The October 2015 Measures and Projections follows below [PDF here]:

Read More About