News that Flora Duffy finished 8th in the Olympics, Bermuda's team returned home after winning their group at the CONCACAF U/15 Girls' Championships in Florida, BELCO awarded $234,250 in scholarships to 34 students, and the organisers and participants of the recent Seagull Race donated $7,000 to the Bermuda Sloop Foundation were all some of the positive news stories from the past week.
Other good news stories included Brian Hall and Jordan DeSilva being named Logic's cricket players of the week, the Bermuda Sanshou Association team winning seven medals at the 11th Pan American Wushu Championships in Texas, and the Devonshire Parish Council awarding its 2016 scholarships.
In additional good news, CedarBridge Academy student Sediq Simons impressed with his culinary skills, Bermudian athlete Devwah Whaley "turned heads" at a recent scrimmage with his Arkansas Razorbacks team, and Stephen Outerbridge received the 13th annual BFSA Sportsmanship Award.
We also posted various community photo galleries, including coverage of local sailing action, summer league netball, a statue of Sir George Somers being unveiled in the UK, Bermuda youngsters receiving cricket training from Coach Azam Riyard, and the Around the Island Power Boat Race.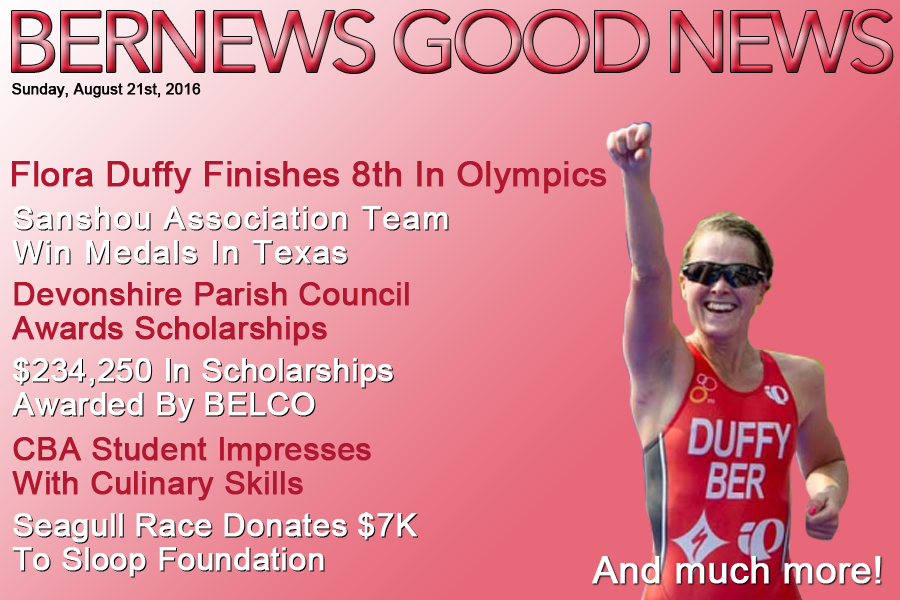 In an effort to highlight some of positive news happening in our community, we supplement our standard morning and evening email newsletters with a special Sunday "Good News" email newsletter edition, which strictly focuses on the positive news from the past week.
You can sign up to have the free newsletter delivered via email here, and/or access the links below. In addition, for those who like positive news, please feel free to visit our sister site ForeverBermuda.com, which seeks to showcase the best of Bermuda as well as provide information and listings for visitor related services.
Links to some of the 'good news' from the past week are below:
Read More About