[Updates posted as they come in: teenager now critical, male victim identified]
In what seems a neverending stream of gunfire, two people were shot in another drive-by shooting at midnight today [April 5] outside the Dandy Town [Western Stars] sports club on St. John's Road in Pembroke. One of the victims is a 17 year old girl.
The Police say that the gunmen were on a motorbike coming from the Hamilton side heading west towards Spanish Point. They rode along St. John's Road, and the pillion passenger fired multiple shots indiscriminately in the general direction of the club hitting two people.
As a result, the 17 year old girl as well as a 38 year old man were taken to King Edward Hospital. Bernews understands the victims may have been transported to hospital in a private vehicle. In a tiny sliver of good news, both shooting victims are said to have non life-threatening injuries. Update: Police have confirmed teen girl is now listed as critical in the intensive care unit. Update #2: Teen downgraded from critical
In what we perceive to be a clear escalation of the shootings, the Police have clearly stated the gunmen "fired indiscriminately in the direction", whereas they usually say the shooting was "targeted".
A large amount of Dandy Town fans were at the Club last night celebrating their League win in the Premier Division yesterday. The Dandy Town Hornets won the Premier Division with a 3–1 win over the PHC Zebras at the Southampton Oval.
As of 2:30 am, the police have cordoned off the road from Berkeley Hill:
Also as of 2:30am – in the other direction, the Police also have the area right outside of Dandy Town cordoned off at the entrance. There are a number of Police officers and vehicles on the scene, including the forensic unit. Investigators can be seen walking up and down examining the street outside Dandy Town.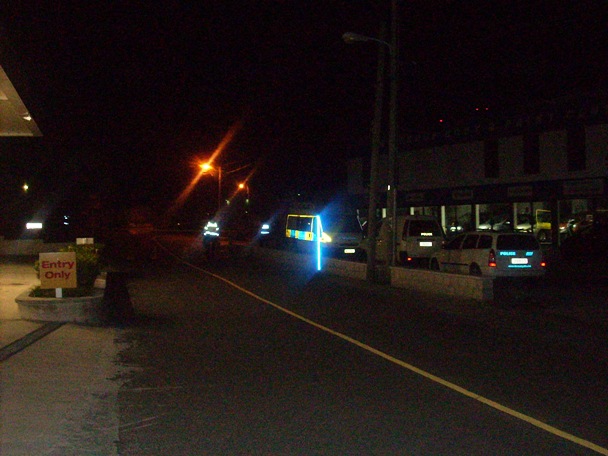 As of 5am, the police roadblocks at both ends are removed. Crime scene tape is stretched across the entrance to Dandy Town, and at least two police officers remain.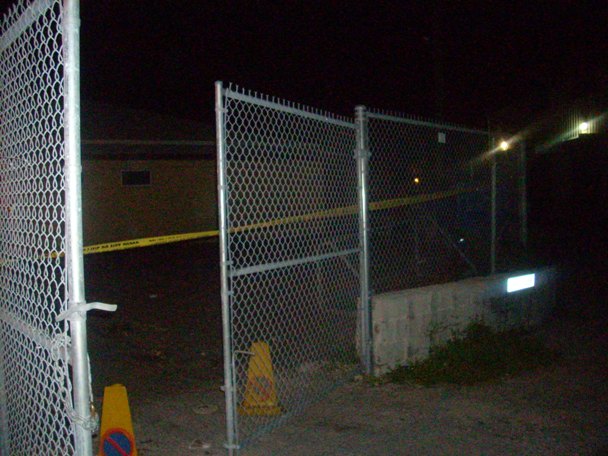 This is a continuation of a wave of holiday gunfire which has seen 4 people shot in only 58 hours, making an average of a person shot every 14.5 hours.
Only 21 hours prior, one man was shot and another stabbed at the RAA Club in St Georges. 37 hours prior to that, Kimwandae Walker was gunned down in broad daylight at a Good Friday kite flying event, dying in front of his two young children. The holiday weekend also included the road traffic fatality of 26 year old Carlton "CJ" Darrell.
This is the 3rd time in just over 3 weeks a teenager has been shot, with a 17 yr old and 18 yr old shot recently. The last female shot was 24 yr old Renee Kuchler at Southside Cinema in November 2009.
Updates will be posted as they come in…..
Update #1: We cannot confirm it's related, but shortly post shooting we saw a police 'paddywagon', two police cars and at least 4 police officers outside King Edward Memorial Hospital, where the driveway was blocked.
Update #2: Police presence at hospital decreased to one police car and one officer [that we saw] as of 3:15 am.
Update #3: Sketchy reports that another bike behind the shooters somewhat "seemed to be with them".
Update #4: As of 5am, police presence at hospital and Dandy Town roadblocks are removed [see photo above].
Update #5: We understand the 16 yr old girl was shot multiple times in the abdomen and arm, and the 38 yr old shot in the arm/shoulder.
Update #6: As of this writing, there are no suspects in custody.
Update #7: We understand the female victim is a Cedarbridge student, and may be 17, not 16.
Update #8: We are being told that immediately post shooting one club goer was about to leave anyway, so attempted to chase down the gunmen on his bike, then realized the danger involved and gave up chase.
Update #9: We have reports that the teenage girl may have been operated on [?] to have bullets removed, and very upsetting news confirmed by the Police that her condition is now "critical" and she is in intensive care.
Update #10: Police confirm, as we stated hours ago, victim is 17, not 16. Bernews understands she will be 18 in August, and is due to graduate from high school soon.
Update #11: We have fairly credible info the teen girl was shot twice in the stomach, and twice in the arms.
Update #12: Male victim identified as coach Antoine Tuzo
Update #13: Teen girl, Mikaela Outerbridge, downgraded from critical and expected to make full recovery,
Police are appealing for anyone who was in the area of Western Stars Community Club around the time of this incident and saw anything suspicious or anyone acting suspiciously to contact Police on 295-0011 or the independent 24 hour confidential Crime Stoppers Bermuda hotline on 800-8477.
[Some info is not official and should not be taken as such]
Read More About