Last night [Oct 2] saw the conclusion of the 2010 Bermuda Music Festival, and in addition to Grammy-award winning singer Toni Braxton performing, another star took the stage – Bermuda's own 11-year-old Malcolm Hollis.
The young singer received well-deserved crowd support as he performed at the Fairmont Southampton last night. Malcolm's first song was 'Rainbow Connection' which he sang accompanied by John Woolridge on the keyboard. He was then joined on stage by his back up singers that included Joanne Burgess the author of "The Lizard and the Rock", a book in which Malcolm sings on the CD sound track to the book.
Malcolm then did a Michael Jackson melody that included "I Want You back" and" ABC", and closed out this performance with his version of Louis Armstrongs "It's a Wonderful World." The crowd erupted, giving the young singing sensation a standing ovation, with crys for "more" being heard from the crowd.
After performing Malcolm was invited back stage to meet Toni Braxton with his parents. They chatted and did some filming for Ms. Braxton's upcoming reality TV show on the Bravo channel. Ms Braxton asked Malcolm if he would like to come on stage and sing during her performance, to which Malcolm replied "I would love to"
Ms Braxton and Malcolm's vocal coach Granville Oldham, the former director of music at Cedarbridge, discussed what Malcolm would sing, and settled on "Somewhere Over The Rainbow" from the Wizard of Oz. Malcolm and his coaches then sought out a grand piano in the hotel where they quickly squeezed in some last minute practice.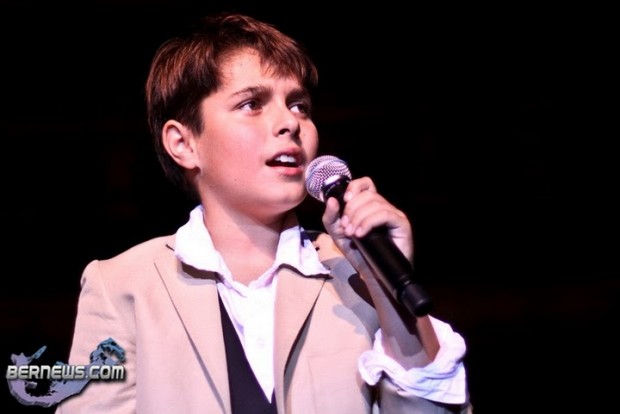 At about 11:30pm, some three hours after the 11-year-old's normal bedtime, Ms Braxton recognised the work of local autism charity BASE, and the work of the U.S. charity she suports "Autism Speaks." She then invited Malcolm on stage and asked him what he would like to sing and said "Are you going to do it in A flat?", to which he responded "Actually I prefer to do it in C."
While this was going on John Woolridge slipped behind the key board and started to play the opening chords and Malcolm proceeded to sing, receiving another standing ovation when he finished.
When the clapping and cheering finally calmed down, Malcom said to the superstar singer "Ms Braxton I have a present I would like to give you," and proceeded to sing his slow jazz version of "Happy Birthday", as Ms Braxton will celebrate her 43nrd birthday soon.
At the end of the song Ms Braxton thanked Malcolm with a big hug, and the young singer then turned to the audience, and with great aplomp shouted as he exited the stage …'"Ladies and Gentlemen, I give you Ms Toni Braxton."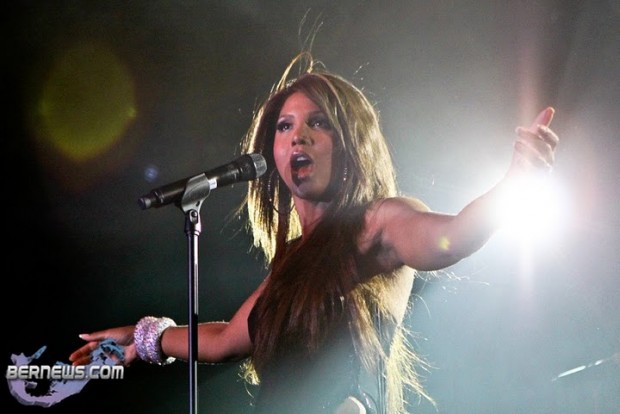 Young Malcolm even drew online attention from superstar singer Toni Braxton, who this morning posted an update on Twitter specifically thanking him.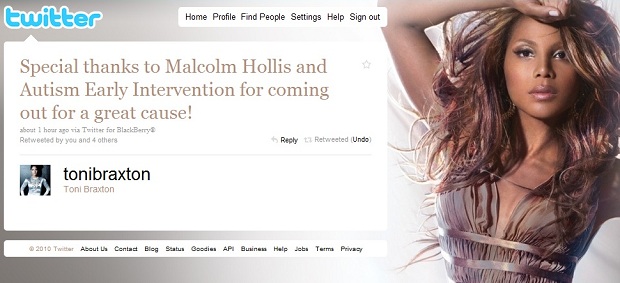 Ms. Braxton, herself a mother of an autistic son, is a strong supporter of autism charities. The promoters of the Bermuda Music Festival are donating a percentage of ticket sales to assist autism, for a minimum donation of $10,000. A spokesperson for BASE tells us they are all incredibly proud of Malcolm's performance and grateful to him and his parents for sharing his talents to raise funds for BASE, saying "They are truly a remarkable family and an inspiration to all of us at BASE."
The 11-year-old singer, who recently released a music video, left Bermuda today to return to his special learning school Eage Hill in the US.  Prior to the flight's departure, Jet Blue made an announcement saying "Ladies and gentlemen we would like to inform you that you are flying with a celebrity today. We have on board 11 year old Bermudian Malcolm Hollis who performed last night at the Bermuda Music Festival and sang with Toni Braxton."
Photos by Only the Best, click to enlarge:
You can view all our coverage, photo galleries and videos of all three nights of the Bermuda Music Festival by clicking here. You can also visit Malcolm's website to listen to more of his music here.
Read More About
Category: All, Entertainment, Music, News, Photos