As many locals are aware tonight [Oct 28] a new PLP Leader, and therefore, Premier will be selected. Deputy Premier Paula Cox, and backbenchers Dale Butler and Terry Lister are all running for the position.
For background information on how the PLP delegate selections works see here, for Dale Butler's campaign launch see here, for Paula Cox's campaign launch here, and for Terry Lister's campaign launch see here. For information on the election of the Deputy Leader which will also happen tonight see here.
Outgoing Premier Dr Ewart Brown will not attend as he left the island today after delivering his final speech as PLP leader at the delegates conference last night. He has now started the "detox" holiday he announced he was going on during his recent round-table meeting with the Bermuda media.
We are starting our new breaking news text-messaging service tonight and will be texting the name of the new Premier, if you have not signed up please text the word SUBSCRIBE to 339-5511 to sign up.
Results are expected in from anytime in the region of 9pm and onwards.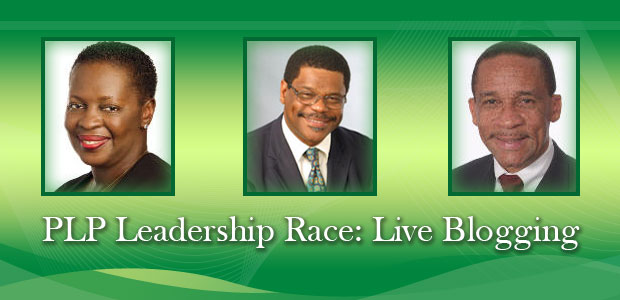 4:30pm: People are beginning to file into Devonshire Recreation Club, where the conference will be held. The opening prayer will start the event at 5:35pm. Photos below taken at 4:20pm today, click to enlarge:
4:49pm: Those who have arrived so far include Minister Derrick Burgess, Minister Zane DeSilva, MP Wayne Furbert [photo], MP Lovitta Foggo, and John Gibbons, who will be running for election in St George's.
5:05pm: Paula Cox, who is considered the front runner, has arrived. [photo]
5:12pm: Former Attorney General and PLP candidate Phil Perinchief has arrived [photo]. Mr Perinchief had written a strongly critical article about Premier Dr Ewart Brown. Former Premier Dame Jennifer Smith has arrived [photo]
5:20pm: On a fashion note, there is a fair amount of green -the PLP's colour – being worn by those in attendance. MP Ashfield Devent, MP Dennis Lister, Minister Walter Roban [photo] and Minister Michael Scott have arrived.
5:30pm: Candidate Dale Butler has arrived, decked out in a sporty hat [photo]
5:35pm: The third, and final, PLP Leadership candidate Terry Lister has arrived, wearing the PLP signature green shirt and tie [photo]. MP Randy Horton [photo] and MP Michael Weeks [photo] have arrived. Both are tipped to be possible Deputy Leaders, with Mr Weeks as a long shot possible nomination.
5:40pm: The proceedings just started inside. MP Wayne Perincheif, a Terry Lister supporter, has arrived [photo]
5:46pm: Roll call of delegates is now underway
6:07pm: On a related note, Premier Dr Brown, who is hours away from his retirement, has said that he has donated $250,000 to the PLP which was raised during his Gala weekend.
6:10pm: Our colleagues from the Royal Gazette and ZBM have been told off for getting "too close", a Party Rep apparently said they were "approaching the area" where the delegates are and told to stay in the designated area (Media is barred from inside, we are huddled in a tent so to speak). The Chairman Anthony Santucci has started to give his report inside.
6:35pm: The Chairman has concluded his report, and the Treasurer has now begun. Minister David Burch has just arrived.
6:37pm: Former Premier Alex Scott has just arrived with his wife. The last leadership change was when Dr.Brown defeated Alex Scott four years ago, by a vote count of 107 to 76.
6:42pm: Treasurers report is over, they are now discussing resolutions.
6:55pm: Mr. Butler will be first to speak after resolutions then Mr Lister then Minister Cox. Mr Butler has snuck outside to grab a snack
7:05pm: Things are running about 30 mins late inside. Resolutions are finishing up. Here is a very bad photo of inside, through a window. They are now on break (outside having sandwiches, cookies and beverages – photo) and the speeches and votes will commence after the break.
7:25pm: New opinion article posted: Larry Burchall: A Restrospective on Dr Ewart Brown – link.
7:38pm: Break is over, conference has begun again, speeches are starting.
7:50pm: Roll call again.
8:07pm: Speeches continue, Minister Cox has finished, her speech was said to be well received. Dale Butler now speaking. Speeches are limited to 10 mins.
8:16pm: Mr Butler has finished, Terry Lister is now speaking. After this the vote begins – 166 people will be voting.
8:25pm: Strong rules on the press, media is being told to stay in place. Media were "outside" the media tent and security came to usher us back under the tent to restrict us from watching coverage on big screen.
8:30pm: Voting has begun, approximately 166 people to vote…
8:40pm: Voting is wrapping up, with the count to come
8:45pm: Count now officially underway
8:45: Paula Cox has won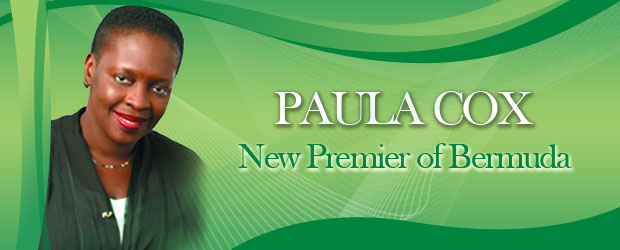 8:55pm: Final vote was Paula Cox 124, Terry Lister 39, and Dale Butler 2
9:26pm: Voting underway for the Deputy: Randy Horton, Derrick Burgess, Terry Lister, Walter Roban and Michael Weeks. Dale Butler is not in. Minister Roban is the surprise here, Derrick Burgess appears to be getting solid votes.
9:28pm: Security is blocking doorway to delegates area with potted bush and trash can [photo]
9:35pm: Derrick Burgess is leading in the vote count for Deputy, Terry Lister is right behind him. Michael Weeks appear to be in 3rd.
9:40pm: Second round of voting is underway, as in the first round no candidate got 50% of the vote, which is required. This round will be between Mr Burgess, Mr Lister and Mr Weeks. First round was: Derrick Burgess 68, Terry Lister 59, Michael Weeks 21, Walter Roban 15 and Randy Horton 6.
9:50pm: Mr Lister and Mr Burgess and very close in the votes
9:55pm: Mr Burgess is starting to pull ahead in the votes
9:57pm: Derrick Burgess has won – he is our new Deputy Leader
10:02pm: Premier Paula Cox is now speaking, with Deputy Leader Derrick Burgess by her side [photo]
10:07pm: Premier Cox and Deputy Leader Burgess have finished speaking with the press, and have now gone back inside.
10:12pm: Dale Butler, who only received 2 votes, is speaking with the press. [photo]
10:16pm: People are leaving Devonshire Rec, cars are pouring out
10:32pm: Premier Paula Cox appears to still be inside, most other MPs have left
10:55pm: Voting for  party positions are now underway, Chairman etc
11:00pm: Profiles of both Premier Paula Cox [here] and Deputy Premier Derrick Burgess [here] posted.
2:00am: 6 videos posted here
Read More About