On Friday [Apr.15] a pod of dolphins was spotted near Challenger Bank, cresting on bow waves created by humpback whales.
Conservationist and documentarian Andrew Stevenson, who heads Bermuda's Humpback Whale Research Project, filmed and photographed the wild dolphins as they cavorted near his research boat.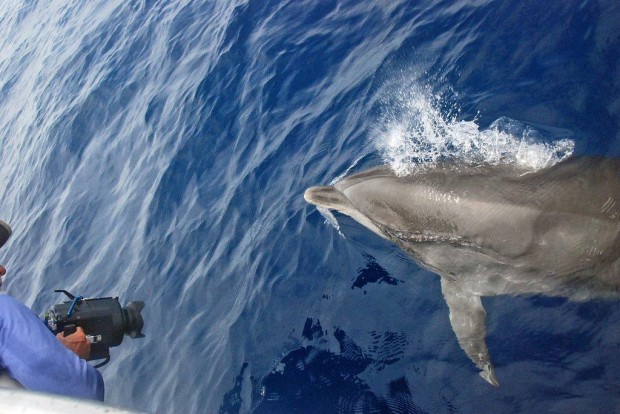 Mr. Stevenson said: "We found a pod of dolphins riding on the bow wave of six to seven whales.
"Some of the dolphins broke off to ride on the bow wave of our boat, 'Ocean Potion'.
"While my guest Jeff Pantukhoff of the US Whaleman Foundation drove, Roland and Karen Lines, myself and Camilla Stringer took video footage and photographs for about an hour.
"The dolphins played with the humpbacks, who were just as energetic and playful."
Mr. Stevenson is on Challenger Bank regularly as he continues to compile a comprehensive photo-ID catalogue of the flukes of Bermuda's greatest repeat visitors.
Each humpback's tail fluke has a distinct black and white pigment pattern that allows researchers to identify individual whales.
Unique visual identification allows researchers detailed information on population, growth rates and migration. Recently Mr. Stevenson filmed two whales which had first been recorded in Bermuda's waters 27 and 34 years ago.
He obtained more than two dozen fluke IDs on the day he encountered the dolphins playing amid the humpbacks.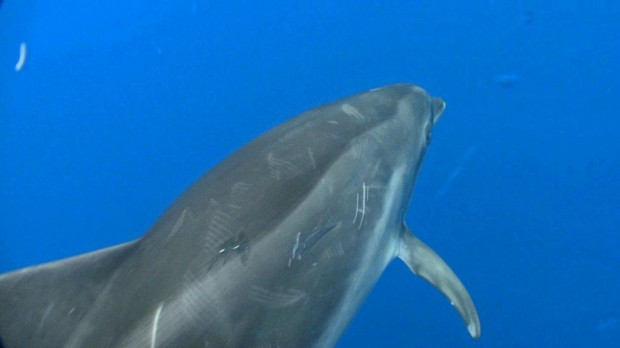 Last week, while photographing two other whales, Mr. Stevenson said a large pod of North Atlantic bottlenose dolphins rode the bow waves of his boat as it crossed the 4,000-foot-deep canyon between Sally Tuckers Point at the south-west corner of the Bermuda platform and Challenger Bank.
Seaworld says dolphins frequently ride on the bow waves or the stern wakes of boats. This activity is probably adapted from the natural behavior of riding ocean swells, the wakes of large whales, or a mother dolphin's slip stream (hydrodynamic wake).
In 2008 Mr. Stevenson shot the footage below of dolphins riding the bow waves generated by migratory whales off Bermuda while on another humpback research expedition.
Dolphins have been seen jumping as high as 4.9 m [16 ft.] from the surface of the water and landing on their backs, bellies, or sides in a behaviour called a breach.
Mr. Stevenson's award-winning documentary about migratory humpbacks in Bermuda's waters, "Where The Whales Sing", premiered at the 2010 Bermuda International Film Festival.
It has subsequently screened at environmental film festivals held in California, Princeton University and Washington DC.
Last year he donated copies of the film to Bermuda's Education Ministry for use in public schools.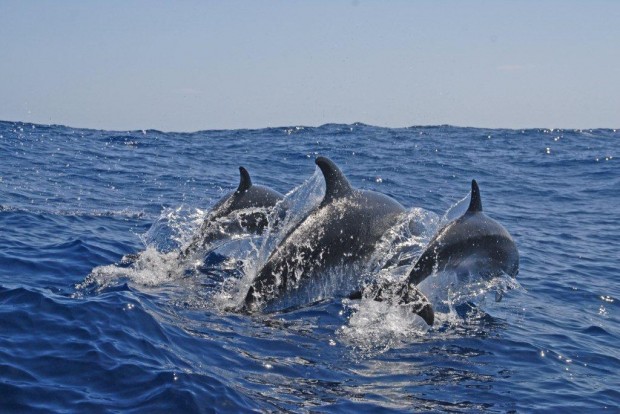 In 2005 three wild dolphins living off the coast of Bermuda surprised and delighted scientists and a worldwide audience who followed their' daily swims and dives via the Internet.
Named JD, Chip and Bermudiana by field biologists, the three wild dolphins were briefly caught, fitted with satellite tags and released by San Diego-based researchers associated with Dockyard's DolphinQuest who were  studying offshore dolphin groups.
Their travels were tracked by global geographic satellite relay technology and posted daily on the researchers' website. Time-depth recorders measured and reported the dolphins' diving behaviour.
Read More About
Category: All, Environment, News