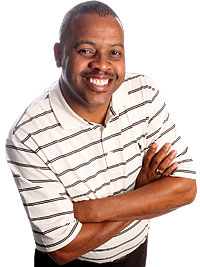 Former UBP MP Darius Tucker announced in the House of Assembly this morning [June 10] that he will join the PLP.
In 2009 Mr Tucker, who represents Constituency #7 Hamilton South, opted to resign as the UBP Whip and sat in the House of Assembly as an Independent MP up until today.
Mr Tucker follows in the footsteps of former UBP Leader Wayne Furbert who also resigned from the UBP and sat as an Independent before joining the PLP last year.
The change now alters the balance of the House from 23 PLP, 10 OBA, 2 UBP, and 1 Independent to 24 PLP, 10 OBA, and 2 UBP.
Making the announcement this morning Mr Tucker said, "The Book of Ecclesiastes teaches us, "to ever thing there is a season, and a time to every purpose under the haven. A time to be born, and a time to die; a time to plant, and a time to pluck up that which is planted.
"A time to kill, and a time to heal; a time to break down, and a time to build up. In 2007 I entered this Honorable House as the duly elected representative of the people of Constituency 7, Hamilton South under the banner of the United Bermuda Party."
"In my term, I determined that conditions within the United Bermuda Party were such that I could no longer server under that banner of that organization."
"Yet while I cast down the flag of the UBP on that summer day in 2009, my commitment, dedication and passion for protecting, articulating and acting on the interests of the people of Hamilton South and Bermuda remains unswerving."
"I have spent the past two years in my Constituency and Bermuda listening to their hopes, their dreams and far too often their fears. They haven't really cared what political party pin, I have pinned to my lapel. All they cared about was if I could help them, whether I could solve their problem, whether I could calm their fears and whether I could relieve their pain."
"Over the past two years, I have also listened and watched as my former political party go through its pain. I watched the start and stop of the BDA and the birth of the OBA. But I also watched a Progressive Labor Party government that has begun to reset the dial."
"I rise today to reflect the times; Times that call for unity not division; Times that call for vision not criticism; Times that call for Bermudians to come first in their own Country."
"Mr. Speaker, for that reason I today will officially join the Government benches as a member of the Bermuda Progressive Labour Party. Thank you Mr. Speaker."
Update 7:00pm: A PLP spokesman said, "The Progressive Labour Party welcomes MP Darius Tucker to our family. As the Member of Parliament for Hamilton South, his presence will enable us to more closely have a link with parochial issues affecting the Knapton Hill, Devil's Hole, Tucker's Town and Wilkinson Avenue communities. We are confident that MP Tucker will be an asset to the Progressive Labour Party team."
Read More About