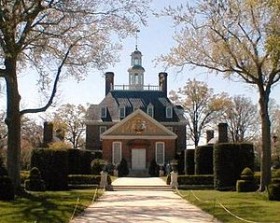 A delegation from Bermuda is visiting Williamsburg, Virginia this week to learn how to capitalize on the historical connections, the Virginia Gazette reports.
When the survivors of the Bermuda "Sea Venture" wreck arrived in Virginia in 1610, they found the English settlement of Jamestown reduced to what has been called "a worlde of miserie" — with famished colonists nearly starving to death.
The Virginia Gazette reports that, "Kenneth Bascome, a member of the Bermuda Parliament, explained it succinctly. "We saved you from starvation," he said Thursday. "And we brought you tobacco."
"In return, they're seeking help in how to invigorate their tourism industry.
"Bermuda's contribution to settling America came in 1609, with the timely arrival at Jamestown of colonists who spent nearly a year shipwrecked in Bermuda. Their impact was immediate.
"Among the new arrivals was Captain Christopher Newport, who ordered existing colonists attempting to abandon Jamestown to stay, and John Rolfe, who would introduce the cultivation of tobacco to Virginia.
"Bermudian officials toured Colonial Williamsburg, the two Jamestowns and Yorktown this week. The snow and ice made their visit a little more memorable than they might have liked," noted the report.
Read More About