The 2014 Hall of Fame took place at the Fairmont Southampton this weekend, with ten of the island's finest athletes inducted into the Hall of Fame.
The ten inducted were, Reuben Alias, Colin Blades, Shaun Goater, Brendan Ingham, Granville Nusum, Dr. David Saul, George Sousa, Gerry Swan, C.V. Jim Woolridge and Rupert Scotland.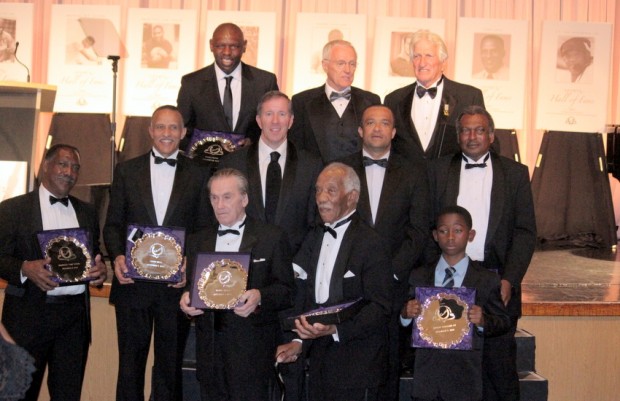 2014 Hall of Fame Inductees
Rueben Alias – Football Referee & Administration
Alias was awarded an MBE in 1972 for his contributions to Bermuda, he is an Honorary Life Vice President for the BFA. In 1984, Alias received a Special Achievement Award in the Annual Sports Awards for the Annual Sports Awards for contribution to football.
Colin Blades – Cricket
Blades was selected to the All-Time Somerset Cup Match XI in 1991, he has a 49.54 Cup Match batting average, he has 644 Cup Match runs and he Captained the 1982 Bermuda ICC Team.
Shaun Goater – Football
Goater scored a total of 103 goals for Manchester City, he was awarded the 1999/2000 Manchester City Player of the Year, he was also the top scorer for Manchester City for four consecutive years 1998 – 2003.
Brendan Ingham – Golf
Mr. Ingham represented Bermuda eight times as a player in the World Amateur Team Championships, he competed in the British Open Seniors Championships in 1993 and 1994. Ingham was the Bermuda Amateur Stroke Play Champion 1974 and 1975.
Granville Nusum – Football
Mr. Nusum set the North America Soccer League record with 22 saves without conceding a goal, Nusum was the runner up for the North American Soccer League Rookie of the Year in 1973, he represented Bermuda in World Cup, Olympic and Pan American Qualifying Games.
Dr. David Saul – Athletics
Dr Saul, a former Premier, set the Bermuda mile record time of 4:42.0 in 1958, set the Bermuda 2 mile record time of 10:37.9 in 1958, set the three mile record time of 15:38.8 in the same year, and set the Bermuda 10 mile record time of 52.53 which stood for over 20 years.
Rupert Scotland – Cricket
Mr. Scotland was selected to the All-Time St. George's Cricket Club Cup Match XI in 1991, Scotland registered 2 Cup Match Centuries, he also registered a total of 736 runs in the Classic. Scotland never played for a losing Cup Match team. Young Matthew Moreno accepted the honour on his late grandfather's behalf.
George Sousa – Football, Golf & Administration
Mr. Sousa captained BAA for 11 years, he also captained the National Team in 1956-57. He won the Two-Ball Best Ball Golf Championships with Louis Moniz in 1969, and was elected as BAA President in 1961.
Gerry Swan – Athletics / Coaching
Mr. Swan coached at 6 Olympic Games, 5 World Championships and 5 Commonwealth Games. He is the only Bermudian to pass the International Amateur Athletics Federation [IAAF] Area Technical Officials Course and was a Technical Advisor for the 2001 Central American and Caribbean Cross Country Championships.
C.V. Jim Woolridge – Cricket Commentator
Mr. Woolridge was awarded the 2013 ICC Lifetime Achievement Award for Excellence, was the recipient of a Sports Citation in 2004 and he was voted The Bermudian's Sports Journalist of the Year in 1996.
Read More About