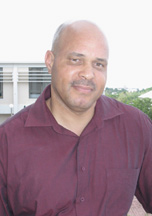 Bermuda College Senior Hospitality Management Lecturer Shawn DeShields recently earned a Research Award from the International Academy of Business and Public Administration Disciplines.
Mr. DeShields' academic paper, "Structural Relationships amongst Cruise Ship Services, Destination Experiences and Passenger Satisfaction," was presented at the organisation's Fall conference in October in New Orleans.
The paper determined that by understanding cruise passengers' experiences, tourism planners and marketers could be assisted by the research in formulating marketing strategies.
The primary objective of the paper, which Mr. DeShields co-authored with Dr. David M Baker and Dr. Festus Olorunniwo of Tennessee State University, was to investigate the extent to which tourists are willing to travel around the world in search of satisfying and authentic experiences.
The exploratory research examined how cruise ship services and destination experiences interact to impact passenger satisfaction with the overall cruise experience. Specifically, which cruise ship services and destination experience variables are relevant in defining the total cruise experience.
The paper discovered three latent constructs emerging: first, cruise ship services, which incorporated the cruise value, quality of services on the cruise ship, how arrangements meet passenger needs, and the total costs including taxes and food; second, destination experience [clean, relaxing, safe and with impressive landscapes]; and third, destination food and beverages.
The findings suggested that cruise companies would do well to focus on the quality of services and food offered on the ship, and that scheduled destinations should offer ample opportunities for passengers to relax.
It also showed that destination cleanliness and safety rank high in contributing to the overall satisfaction of visitors' cruise experience with the same ship or to the same location, and the likelihood of a repeat experience either with the same ship or to the same location. High overall satisfaction may also encourage passengers to recommend to others that they pursue a similar experience.
A follow-up study conducted by Mr. DeShields and Bermuda College Officer for Institutional Research, Mr. Cordell Riley, examined Bermuda-bound cruise ship passenger brand satisfaction levels by collecting customer loyalty data from over 11-hundred cruise ship passengers, to determine the likelihood of using the same cruise company if a return trip was planned.
Information was also obtained to identify the probability of passengers returning to Bermuda via air and staying in hotels versus cruising. Finally, indicators pinpointing Bermuda's most enjoyable land-based excursions were ascertained.
This study, "A Comparative Analysis of Passenger Brand Satisfaction Levels of Cruise Ships to Bermuda" will be presented in 2017 at the 7th International Interdisciplinary Business-Economics Advancement Conference.
Mr. DeShields said such research can assist destination managers, local government and policy makers to formulate private and public development and marketing strategies for repeat Bermuda Tourism Island cruise visits.

Read More About