[Written by Mikaela Ian Pearman]
My second stop for Restaurant Weeks was Cafe Lido on Saturday night. After dining at the Waterlot Inn the night before, I had high expectations.
When my fiancé and arrived, we were whisked to a table next to the restaurant's large picture windows overlooking Elbow Beach. Our drink orders were taken quickly – Malbec for him, virgin strawberry mojito for me [I am pregnant].
We had a look at the menu on offer and ended up ordering exactly the same. We usually will order different items to sample more food, but we were both pretty firm in our choices.
Before our starters came, we were served a delicious shot of pumpkin soup to kick the meal off. I thought it was a nice touch.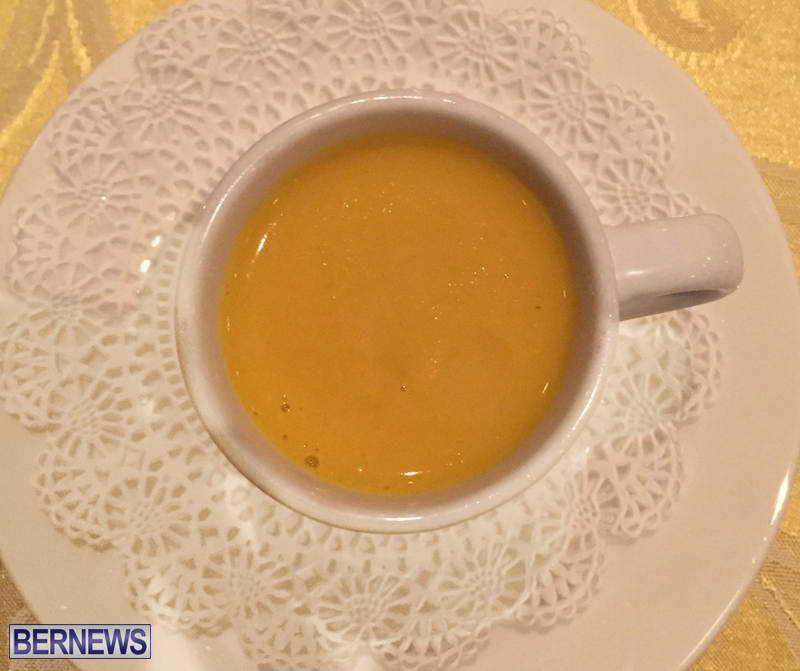 For a starter, we had Bermuda Grown Shitake and Golden Oyster Mushrooms ragout in a puff pastry vol-au-vent. This dish was creamy, earthy and crispy all at the same time.
There was a bit of crushed tomato on top, which added some acid to cut the richness. It was a great start to the meal.
My our mains, we ordered Pan Seared Salmon with spinach and lemon butter sauce, crispy fishcake bite with carrot purée, pan fried cassava pie and four-cheese macaroni and cheese.
Now I have to say, I'm not the biggest salmon fan as I prefer local fish, but this salmon made me a believer. The fish was beautifully seasoned and perfectly moist, while being so crispy.
Not sure how Chef Serg Botelli does it, but it was magic salmon that I have been thinking about since I ate it! And the spinach lemon sauce was the perfect accompaniment.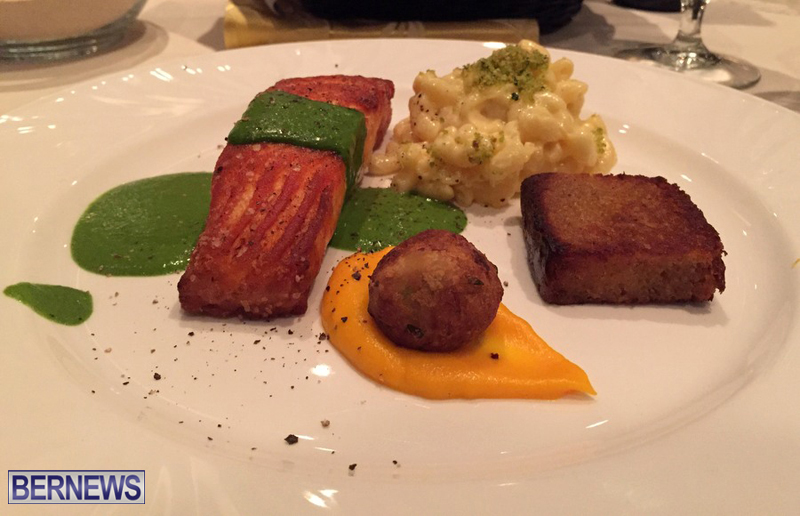 The fishcake bite was divine with the carrot purée and the cassava pie was almost as good as my mom's. Finally, the mac and cheese was decadent and complemented the rest of the plate.
I loved that it was a take on a typical Bermudian meal – fish, mac and cheese and cassava pie but a higher end version.
For dessert, we ordered Dark & Stormy Soufflé with ginger Creme anglais. It was warm, light and full of rum and ginger flavour – truly an excellent way to end the meal.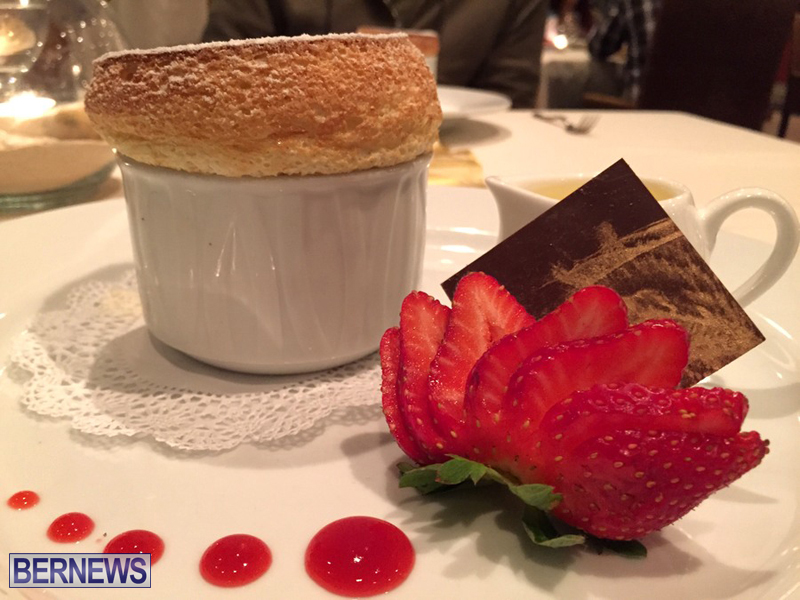 In addition to fantastic food, our server Ana, who is also the resident sommelier, was outstanding. She brought over a delicious olive oil and sea salt to accompany our bread basket and initially offered wines to sample before she realized I was pregnant. I promised her I would return in a few months to sample wines.
So do me a favour – call Cafe Lido and book yourself a table for dinner before Restaurant Weeks is done. The dinner was amazing value, absolutely delicious and such a fabulous setting. I highly recommend checking it out.

This year's Restaurant Weeks runs from January 12 to February 3, with the largest number of participating restaurants ever – 50 – and the introduction of lunch, which is being offered as two-courses for $22. The three levels of pricing for this year's event are $32, $42 and $52.
We will have additional coverage as Restaurant Weeks continues, and you can view all our coverage of Restaurant Weeks here, the list of participating restaurants/prices here [PDF], and all coverage of cuisine here.

Read More About
Category: All, Entertainment, News