The America's Cup Event Village could become home to a business hub incorporating indoor agriculture, aquaculture and renewable energy.
The Cross Island Legacy Committee made its recommendations public, saying they believe the area — nine acres of reclaimed land — should be used as an "integrated Blue/Green Business Hub including Indoor Agriculture, Aquaculture, Renewable Energy, and additional synergistic businesses".
Committee Chairman Wayne Caines said: "I am sure there will be a lot of people wondering, how and why we arrived at our recommendations when they read this, but this was not a recommendation the committee plucked from thin air, we followed a systematic process, considering every recommendation meticulously.
"If we take all the elements of this proposal together, we think the overall value is far greater than if you take them individually.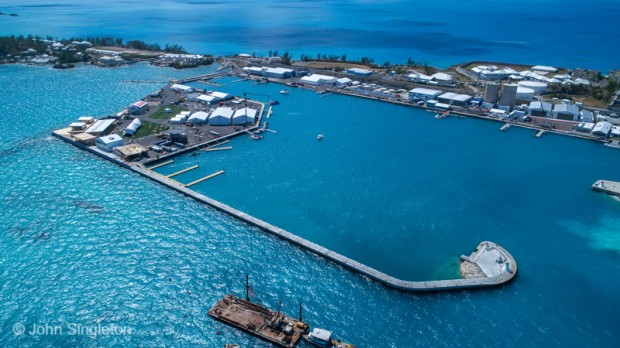 "The committee believes this idea could create a new industry for the Island, create jobs both through the creation of the operation, the operation itself and support industries around the businesses.
"It is a concept that is a 'step change' and is something completely new to Bermuda so we hope people approach this with an open mind and see the benefits that something like this could bring to the Island."
Mr Caines added: "It is really important to understand that we are not talking about some grow out in the backyard here."
The Committee was established by the West End Development Corporation [WEDCO] last year to conduct widespread consultation over the use of Cross Island, following the America's Cup. WEDCO also brought in Deloitte to support the Committee's consultation and decision-making.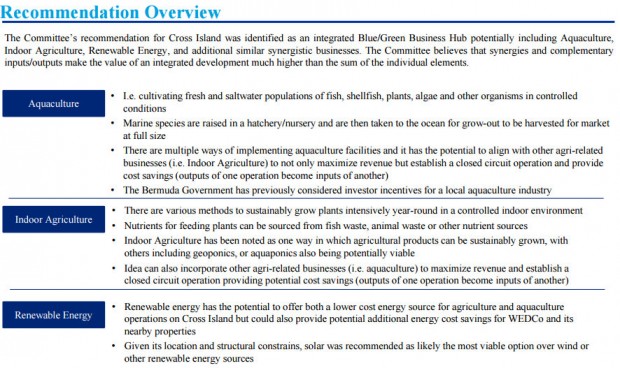 In the end more than 300 ideas were submitted to the Committee ranging from a water park to a brothel, dog park and open air concert theatre. All the ideas were evaluated against a set of criteria, including:
Economic – provides economic benefits to Bermuda
That it is sensitive to the environment, surrounding historical significance, and marine habitats
Financial – that it delivers a good Return on Investment [ROI] for Bermuda
Whether it is financially viable
Social / Cultural – whether it is connected to Bermuda's heritage and culture and provides social benefits to Bermuda
Structural. Is a good fit for the location, physical site, and exposure to weather and elements?
Mr Caines added: "The Committee believes that this development could have multiple benefits for Bermuda. For instance, there will be educational opportunities and the potential to collaborate with and learn more from local and overseas institutions.
"It will help provide more food security, reducing our reliance on imports, it will add to the amount of healthy, locally sourced food products and there may even be some potential for exports.
"On a personal note, when I started this process I did not think that we would end up with this recommendation. But as we worked through the ideas, it became clear to me that this idea met the criteria through which we were assessing ideas. I am genuinely excited by this idea."
The WEDCO board is in the process of evaluating the recommendation and more research will be carried out into the idea.
Ray Charlton, the chairman of WEDCO, said: "The Committee was very thorough in its work and we thank them for coming up with such an interesting idea.
"We do not yet know if the America's Cup will be coming back to Bermuda but if, unfortunately, it does not we want to be in a position to progress with a project for Cross Island that is both in keeping with the area and which adds to the economic wellbeing of Bermuda."
The full Cross Island Summarized Report follows below [PDF here]:

Read More About
Category: All, Business, Environment, News