The team of Marshell Smith, Shanley Todd, Tihana Booth, Lovette Marshall, Yasamine Douglas, and John Scotland have all started work at Royal Naval Dockyard as official WEDCO ambassadors, making it their duty to welcome visitors "with a smile and a big Bermuda welcome that makes people feel instantly at home."
A spokesperson said, "They have been hired by the West End Development Corporation [WEDCO] and have been trained in customer service by WEDCO and are all Certified Tourism Ambassadors [CTA].
"Stationed around Dockyard, the ambassadors all know its history and have an in depth knowledge of what is on offer.
"Their duties includ greeting tourists and helping them work out where they want to go or what they want to do, teaching and/or telling them about Bermuda and promoting the different businesses in Dockyard."
Ambassadors Lovette Marshall, Tihana Booth, Shanley Todd, and Yasamine Douglas: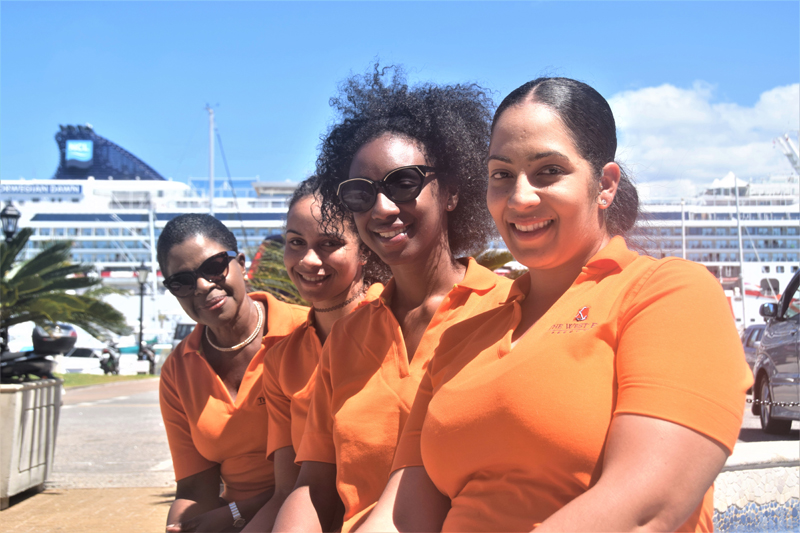 Aqueelah Somner, HR Generalist at WEDCO, who oversees the programme, said, "They are stationed around Dockyard and interact with Dockyard visitors, answering any and all questions.
"If the programme is successful, we will look to repeating this idea in the future. So far, the feedback we have been getting has been very positive."
Ms. Smith said, "Customer service is innately within me, and I enjoy an immediate rapport with clients. To meet and greet guests at WEDCO is with pleasure as I enjoy helping people make the most of their vacation.
"I love hearing the guests speak well of Bermuda's beauty and cleanliness, and friendly people. Seeing the big grins on guests' faces a day or two after helping some of them with their plans is great and they often tell me how being in Bermuda is one of their most euphoric experiences."
Ms. Todd said, "I have always worked in the tourism industry and I enjoy the satisfaction of knowing that I have helped to make someone's vacation better by going above and beyond.
"The part that I enjoy the most is the fact that there is never a day that is the same and I enjoy having the privilege of being able to meet different people from all different walks of life from all over the world and have a wide range of conversation with them."
Ms. Booth said, "I decided to become an ambassador because I felt it was a great opportunity for me to help visitors enjoy or even love Bermuda as much as I do."
"Altogether, the entire WEDCO team are now qualified as CTAs and all of WEDCO's outdoor team are also trained in CPR. Training will soon get underway to ensure the remainder of the employees are also qualified in potential life saving techniques."
Ms Somner said, "Dockyard is a large and important tourist hub and we need to make sure our visitors have the help they need to ensure their stay is really enjoyable.
"Our staff are on the front line all the time and with the vast amount of visitors we have, both local and from abroad, it only made sense to ensure they were CTA certified."
"To achieve CTA status, staff had to attend two half day sessions held by the Bermuda Hospitality Institute which involved learning, not only the history of Bermuda, her people and each tourist hub, but also about customer service."
Ms Somner said, "We are now implementing this into our hiring plan to ensure that our entire team going forward are CTA's."
Andrew Dias, WEDCO's General Manager, said, "From the feedback I've had, the team of ambassadors has been very well received indeed and are doing a superb job."

Read More About
Category: All