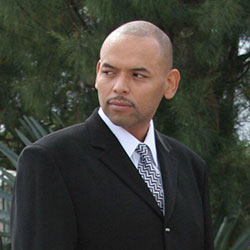 [Written by Don Burgess]
Tributes poured in for a "Man of Music" who was known for his service to God. Steve Easton, owner of Just Platinum! Recording Studio, passed away on Saturday.
Mr Easton had a rich life that was shaped by his deep abiding faith. He was well-known for giving his talents to God by participating in the Southampton Seventh-day Adventist Inspirational Choir.
As a music producer, he touched the lives of many in the industry by giving sound advice as he recorded their songs.
He was also one of three Bermudians who sang the US National Anthem on Bermuda Day in front of a crowd of 39,000 at Fenway Park in 2012, and also participated in the John Lennon Tribute concert later that same year.
National Security Minister Wayne Caines sang in the choir with Mr Easton for more than 20 years. He said Mr Easton was an active member of the Restoration Seventh-Day Adventist Church, the Paris team and the Audio Visual Ministry team.
He paid tribute, "To understand Steve, you have to understand his family. Steve's mom was one of the best sopranos in Bermuda. She had perfect pitch and a pure voice. His mother was a significant figure in the Seventh-day Adventist Church here in Bermuda. Most of us can recall Mrs Easton singing for the major church events growing up. Steve became a part of that legacy."
Minister Caines added that Mr Easton would never say 'no' to being asked to sing at birthdays, funerals, prayer meetings and worship services.
"Steve was always a willing servant. What is noteworthy was the fact that he was never churlish, never angry, but always dealt with people in a loving and kind manner.
"I am aware that Steve was a significant person in many areas, but his absence will be felt within the Seventh-day Adventist Church."
He added at Saturday night's choir rehearsal, one of Steve's best friends, Conrad Roach, said, 'We will check ya boy on de bounce.' That is a term when Bermudians say goodbye to someone when they know they will see them again. What Conrad meant is that we will see our friend in heaven."
Minister Caines said to "take comfort in the fact he is no longer suffering and in pain.
"We, as a choir and church family, has vowed to stand with Chevy and his three daughters and grandkids. We loved the man of music, and we love Steve for keeping us in tune with our Father through his music."
Also paying tribute to Mr Easton was Dwayne Caines, who said, "We will always remember you for your strength, kind words, willingness to help, musical talents and your awesome sound engineering skills.
"You perfected the art of quality sound for worship and you created the culture where people gave their best in churches by understanding that quality audio and video creates a high praise and worship environment.
"You also were the creative director for countless commercials ad campaigns and jingles.
"I will remember your kind words. To Chevy and the girls, we do not mourn like those with no hope we have the blessed assurance that one day we will see Steve again."
One of Mr Easton's good friends, Elmore Warren, owner of Fresh Creations, recalled working with him in 1995. Mr Warren said he did something in every studio Mr Easton had in Bermuda, including the last one in Mr Easton's home in Warwick.
"What a shame he is gone." Mr Warren said. "The thing is he will be on one of my videotapes when I least expect it, and I know I will just lose it.
"Peace to all his family: Chevy, Bunny, Princess and Steph. I've watched you all grow up into amazing young ladies. I know your pain, but I know you all have faith that will carry you through. Sorrow only for the moment, but joy comes in the morning."
Tony Brannon said, "Steve was the kindest and most giving, non-judgmental person I have ever met. Steve helped me no end if I had a technical problem with my recording software. Steve really knew his stuff.
"In many ways, the fact he sang Bless You on the Lennon Bermuda tribute, is now indeed a tribute to Steve."
Entertainer Wanda Willis said Mr Easton was a humble, industrious and professional person who was an overachiever in so many different ways. She said society had lost a "legend."
"His creative musical contributions to music in Bermuda and worldwide is phenomenal.
"Working with him in his studio always proved to be a magnificent learning experience as he used his music and engineering talents to create recordings worthy of award-winning accolades. His finesse and very knowledgeable ears turned many recordings into masterpieces as he mixed and compressed material in his studio."
She said Mr Easton would add features which "greatly enhanced many recordings that are available worldwide.
"His expertise, music and studio knowledge will be missed, and so will be the future innovative ideas that we shall not see due to his passing."
Read More About