Lisa Whitehead is one of the proud local volunteers at the annual Ag Show event. Along with her team, she works tirelessly over the three-day exhibition weekend to pick up trash and restore the Botanical Gardens to its former glory. Ms. Whitehead admits she feels a huge sense of accomplishment once the task is complete; she tells us why she personally got involved with the cleanup efforts…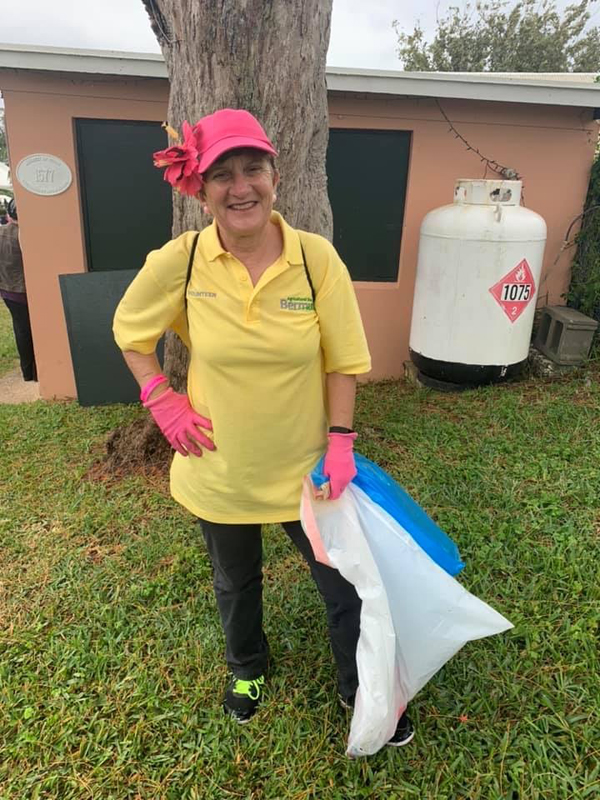 Q: What does the Ag Show mean to you personally? Why did you decide to get involved?
A: The Ag Show means a great deal to me as I've had so many good memories at the event from many days gone by. Just like they do today, as children we would get time off from school to visit the show and people back then had so much pride to take part in the event each year.
I've been a Keep Bermuda Beautiful person for well over 25 years. I have my adopted spots around the Island and try and keep up with them on a regular basis, hence why the Ag Show is perfect for my KBB cleaning passion. I sign up for the 3 days to help keep the grounds and surrounding areas in good order for people to enjoy on whichever day they choose to come. Parks Department help a great deal as well.
Q: What's the biggest challenge and reward in taking part?
A: There are a few challenges that come to mind. There are groups of youngsters that sometimes congregate in the outer parts of the ongoing show area and unfortunately damage some of the flower gardens and benches.
This is sometimes sad to see, but the reward just comes from doing the work. It's a job that a lot of people don't want to do, but I really enjoy it. That's my part to play. I've learnt that everyone must find their niche and believe that in something as big as this everyone can do something to help to make it function and run well. Everyone can find something they enjoy – my thing just happens to be keeping Bermuda clean.
Q: What is your greatest memory of taking part in the Ag Show?
A: I've been involved with Botanical Gardens and the Ag Show since I was a child. I lived near the area so it was a place I spent a lot of time in. I used to love to enter all types of things like salt water aquariums, food products, flowers [like geraniums and African violets], and even some woodwork items. One year our neighbourhood group even entered a float. I would race down after I knew the judging took place to see if I had won anything. I probably still have some of the ribbons in my memory boxes.
Q: What would you say to encourage residents to take part and get involved in 2020?
I'd encourage people to please sign up to help at the Ag Show in some way, as it takes a village to make a successful event. I would also remind the school children that they can get community service hours for volunteering.
The 2020 Ag Show will take place from Thursday, April 23 to Saturday, April 25. For more information visit Facebook: Ag Show Bermuda.

Read More About
Category: All, Entertainment, News