News that Future Leaders partnered with HSCM Bermuda, Amelia Oatley and Lauren Pereira were called to the Bermuda Bar, and Kraft Cares raised $5,100 for the Coalition for the Protection of Children were all some of the positive news stories from the past week.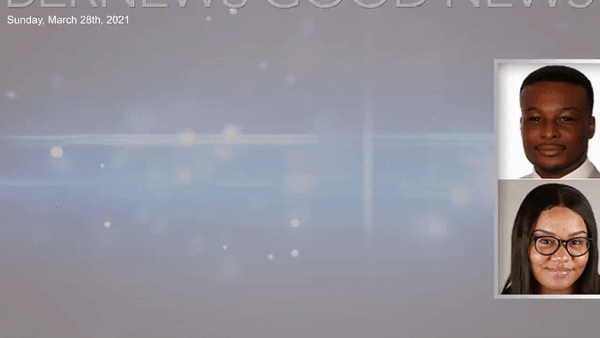 In additional good news, Pembroke Rotary Club donated laptops for foster children, the Wendy Tannock film Compassionate Release – The Ravages Of Time will screen in a showcase, and KPMG highlighted $1.6 million in corporate citizenship efforts along with over 3,500 community service hours.
Other good news stories included Bernews' Wallpaper Wednesday featuring a Gombey Warriors themed phone lock screen, Oliver Betschart finishing second in Texas, the 'The Jewels of Bermuda' set to be released, Easter displays on Crow Lane and Trimingham Hill Roundabout and Lighthouse Connect donating 20 laptops to students of The Berkeley Institute.
We also posted various community photo galleries, including coverage of the TLC Privacy Officer Ceremony and the Easter displays on the Crow Lane and Trimingham Hill Roundabout.
In an effort to highlight some of positive news happening in our community, we supplement our standard morning and evening email newsletters with a special Sunday "Good News" email newsletter edition, and also produce a highlight video and article which strictly focuses on the positive news about Bermuda and Bermudians from the past week. You can sign up to have the free newsletter delivered via email here, and/or access the links below.
For more positive coverage, you can also visit other websites in the Bernews Network: ForeverBermuda.com showcases uplifting Bermuda news and the tourism genre, BermudaCovers.com offers free Bermuda themed Facebook covers and phone wallpapers; and you can view almost 200 'Good News' summary videos spanning back to 2017 here on recently upgraded video website Bernews.TV.
Links to some of the 'good news' from the past week are below:

Read More About