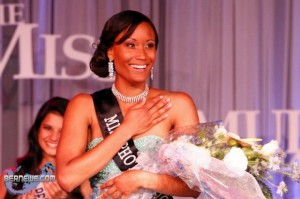 Miss Bermuda Rochelle Minors has started out strong in the Miss World contest being held in China, having been selected for the semi-finals of the talent portion.
Miss Minors was one of 24 contestants —  out of the 120 contestants taking part — who progressed to the semi-finals. The 22-year-old student and fashion model used her musical talents to wow the judges.
In describing the talent portion, the Miss World organizers said: "As well as bringing singing and dancing skills to the Miss World group performances, contestants are given the chance to demonstrate their own unique talents in front of a panel of judges.
"Yes, the talent auditions have kicked off here in Ordos and those who make it through will get to showcase their skill at the Miss World talent show, which will take place on August 10th.
"It's one of the most exciting elements of the whole festival and a great way for the contestants to catch the eye of the judges. It really highlights the richness and diversity that Miss World brings together."
The 24 contestants who made the semi-finals are: Bahamas, China, Panama, Philippines, US Virgin Islands, Czech Republic, Israel, Brazil, Norway, Italy, Paraguay, St Kitts and Nevis, Australia, Denmark, Finland, Latvia, Macau, Mongolia, Kazakhstan, Jamaica, USA, Curacao, Dominican Republic and Bermuda.
The Pageant finals are being held in Inner Mongolia, China on August 18, with a host of events being held before the final day of competition.
Related Posts
Category: All, Entertainment, News, Style & Beauty