Call them Bermuda's teen recording titans — production company DemBiez was officially launched last December when Shomari Warner, Cahlii Smith, Jumar Hayward and Coshaun Evans discovered they had a talent for creating and writing music together.
Mr. Warner — who is currently studying sound engineering at Fanshawe College in London, Ontario — said DemBiez is signing local talent from ages 14 to 20 under and assisting them with song writing, singing, music videos and photo shoots.
The founders of Bermuda's DemBiez production company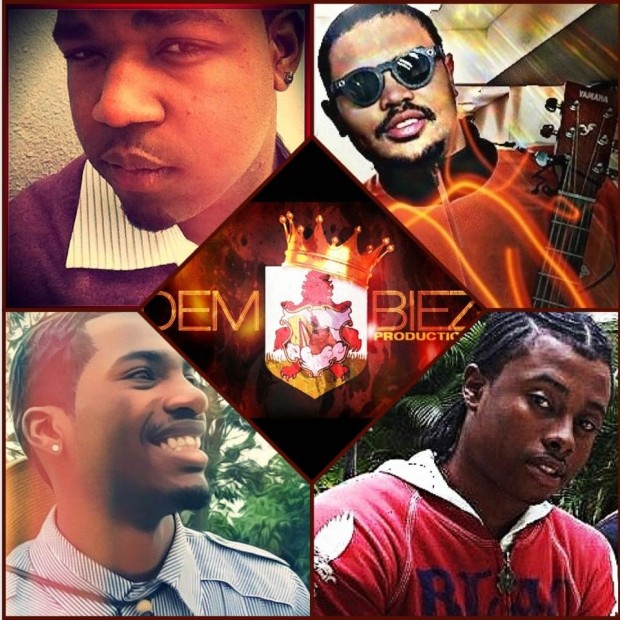 "We are opening up a new studio this summer which would be our headquarters for the artist under us to record albums and singles," he said. "We have been working and studying for three years in preparation of starting our own production company/label.
"You shall be seeing a lot from us and all our talented artists this summer. We are helping them reach their dreams of being the artists they play on their Ipods and see on MTV.
"These are the most talented young people I have ever seen!"
A few of the talented young Bermudians working with DemBiez include 14-year-old Dellwood student Tonya; 18-year-old Rosie Mae; Caroline Araujo, who is 18 as well; and 19-year-old Coshaun Evans.
CoShaun Evans and Cahlii Smith performing "Everything"


A DemBiez spokesman said the new label is ready to help guide the next generation of entertainment "not just in Bermuda but outside of their comfort zones, too.!
He added: "There are some who tell us we won't be able to do it but that just makes us strive harder! Don't underestimate us!
"We are young Bermudian males who are ready to make a difference."
DemBiez describe themselves as being community-oriented, saying: "We just love spreading smiles, music and joy in times of pain, agony, and depression.
"We love going out into the community, walking into random businesses and performing, going to different schools to see the talent and do our part to better that talent."
It's That Typa Party skit group's "Gangsta Skool" video featuring DemBiez
Among the artists  they cite as influences are Ed Sheeran, Kimbra, Ryan Leslie, Ludacris, Logic, Eminem, 30 Seconds To Mars, Shinedown, NeverShoutNever, Sammie, Paramore, Taylor Swift and Lonely Island.
They can be contacted through their official Facebook page, DemBiez.
Last year Cahlii Smith, Zichari Young and the fledgling DemBiez production team released a well-received Bermudianised version of the 2006 John Mayer hit "Waiting On The World To Change" in response to ongoing serious crime and gun violence on the island.
"It's been a real emotional time for my group and music can ease a troubled mind and even produce a glimmer of hope," said Mr. Smith at the time. "… We had to put everything on hold to express our feelings about what's happening in Bermuda after being on Facebook seeing, day after day, people's emotions pouring out and how they want change."
"Waiting On My Island To Change (Proud To Be Bermudian)" John Mayer Cover
Read More About
Category: All, Entertainment, Music, News