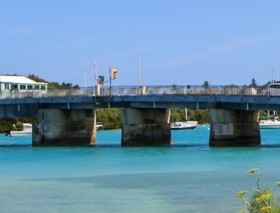 The Ministry of Public Works said that in an "abundance of caution" they will be placing a weight restriction on Swing Bridge in St. Georges and enforcing single lane traffic effective Tuesday December 22nd.
A spokesperson said, "After a recent engineering survey by the Department of Works and Engineering, the Ministry of Public Works, in an abundance of caution, is planning to place a weight restriction on Swing Bridge in St. Georges and enforce single lane traffic.
"There will also be a 15 KPH speed restriction for motorists when crossing the bridge. The changes will come into effect on Tuesday December 22nd.
"Full details will be made available during a town hall meeting at Penno's Wharf Cruise Ship Terminal on Monday at 6:30pm. Any interested members of the public are invited to attend.
"The Ministry would like to reassure the public that it will not prohibit public transport or private vehicles crossing the bridge during this time and that swing bridge traffic lights will be controlled manually during peak traffic hours [morning and evening commutes] to ensure residents are not inconvenienced by the changes.
"Letters went out today from the Ministry to owners of vehicles greater than 10 tonnes to advise them of the weight restriction which will be in place until such a time that essential maintenance works have been completed.
"The Ministry of Public Works will issue permits, where possible, for vehicles greater than 10 tonnes gross vehicle weight, specifying acceptable reduced load parameters under the permit."
Read More About