News that the Berkeley Institute has implemented a Virtual Enterprise International [VEI] programme in their business department, Zeiko Lewis scored twice in a Boston College win, Kahnae Bean, Shane Antonition, and Khylah Rogers were awarded the 2016 Steinhoff/BZS Scholarship and the island being spared any major damage from Tropical Storm Karl were all some of the positive news stories from the past week.
Other good news stories included Jacari Brimmer-Landy receiving the $10,000 Legal Education Award from Sedgwick Chudleigh Ltd, the Bermuda Motorcycle Racing Club nominating its first female president in Takara Dill, Andrea McKey making her mark at the American Martial Arts Alliance Nationals, and the Bernews App getting even easier to use with the addition of a new notification centre.
In additional good news, Warwick Academy opened its newly renovated Sixth Form Centre and the new McCorkell Commons and launched "Warwick Connect," Flora Duffy gave special thanks to everyone in Bermuda after winning the 2016 ITU World Championship, Port Royal Golf Course offered free memberships to four juniors, and Bermuda ranked fifth in the Cruisers' Choice Destination Awards.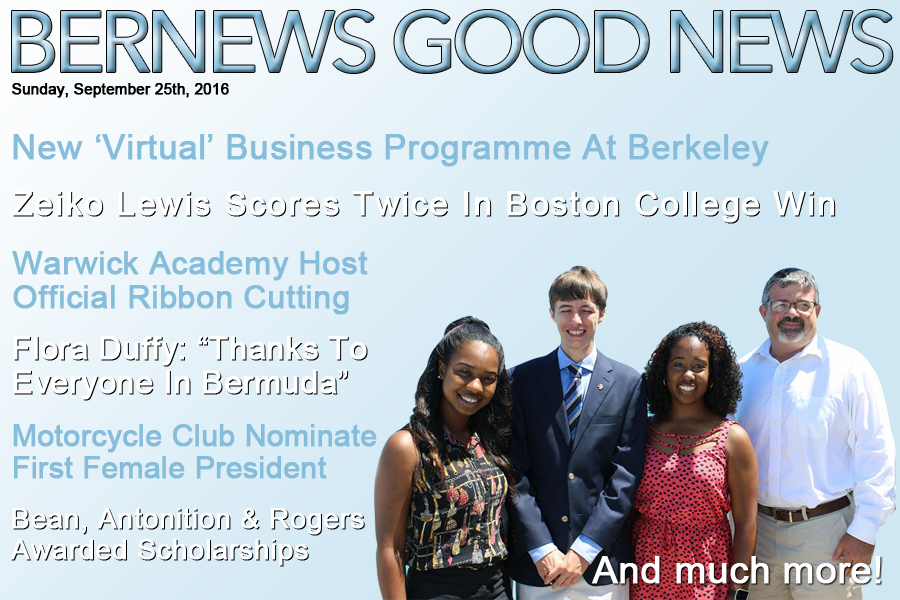 We also posted various community photo galleries, including coverage of the "Small World, Small Islands" Cultural Festival, Flora Duffy winning the 2016 ITU World Championship, the OCAB 'Break The Silence' 5K Run/Walk, and the Ethiopian Orthodox Church reconsecration and rededication.
In an effort to highlight some of positive news happening in our community, we supplement our standard morning and evening email newsletters with a special Sunday "Good News" email newsletter edition, which strictly focuses on the positive news from the past week.
You can sign up to have the free newsletter delivered via email here, and/or access the links below. In addition, for those who like positive news, please feel free to visit our sister site ForeverBermuda.com, which seeks to showcase the best of Bermuda as well as provide information and listings for visitor related services.
Links to some of the 'good news' from the past week are below:
Read More About