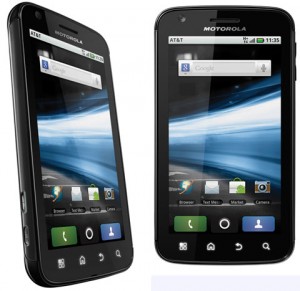 CellularOne today announced the arrival of the 4G capable phones to the island, launching the Motorola Atrix 4G [pictured] and the HTC Inspire 4G, which both operate on the Android operating system.
The Company said both the Motorola Atrix 4G and the HTC inspire 4G have theoretical download speeds of 14.4 MB/s which is four times faster than any BlackBerry in market today and twice as fast as the current iPhone products.
CellularOne launched their 4G network back in January of this year, which the company says has theoretical download speeds of up to 21 MB/s, but access to 4G capable phones was limited at that time.
Digicel Bermuda CEO Wayne Caines addressed the 4G service at the time saying,  "This is a situation which boils down to timings and semantics – not differences in technology or in speeds."
Frank Amaral, CellularOne's Chief Operating Officer, said, "Launching the first 4G network was great, but now to be able to provide smartphones that support that increase in speed and allow our customers to do more with their phones even faster is a thrill."
"We know how popular the BlackBerry lineup is here in Bermuda, but these 4G phones are among the best sellers in the U.S. due to the fact that you can do so much with them at the fastest possible speed." said Mr. Amaral.
Read More About
Category: All, Business, technology