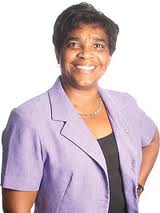 Shadow Minister for Tourism Patricia Gordon-Pamplin responded to the dismissal of Tony Brannon from Tourism Board saying, "It is truly sad that the government would apparently put ego and pride over the utilization of willing expertise."
After being dismissed yesterday [June 14] from the Tourism Board Tony Brannon said "The Tourism Board has written not one line of code on their plan. So in 6 months we've done nothing but talk, eat cakes, and have coffee."
Ms Gordon Pamplin said, "There has not been one tourism minister in the PLP government with tourism management experience, yet they scoff at the idea of having those who know what they are doing to drive the industry."
"I thought it was a move in the right direction to include the likes of Tony Brannon on the Tourism Board, as his background lends itself to effective input. How many hoteliers are on the tourism board?," asked Ms Gordon Pamplin.
"If there is genuine concern about the revitalization of the industry and about putting Bermudians back to work (especially in the face of the massive layoffs that have occurred due to the PLP's fiscal indiscipline), one would think that it is time to embody a Tourism Authority, staffed with people who know what they are doing. Clearly, the Minister and the government do not."
"However, the right step is for the electorate to demand it. The government is averse to listening to good ideas, but they are beholden to those who voted for them, and it is time that they be held accountable for standards that are better than the mediocrity which is the PLP norm," concluded Ms Gordon Pamplin.
Mr Brannon was named to the Tourism Board in December 2010 along with Malcolm Butterfield [Chairman], Jonathan Crellin [Deputy Chairman], Brian Duperrault, Wendell "Shine" Hayward, Kelly Francis, Quinton Bean, Vincent Ingham, Randolph Horton, Maxwell Burgess, Michelle Cox, Sallie Singleton, Isabelle Braxton and Anthony Santucci.
After his dismissal a Government spokesperson said "The public can be assured that the work of the Board will not be adversely affected by Mr. Brannon's departure and it is anticipated that the vacant Tourism Board post will be filled in due course. As this is an internal matter, the BDOT has declined further comment regarding the issue at this time."
Read More About