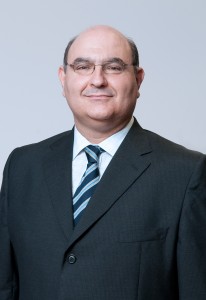 Solvency II is a necessary response to the global financial crisis, said Gabriel Bernardino, chairman of the European Insurance and Occupational Pensions Authority [EIOPA], citing the fact other jurisdictions including Bermuda, Japan and non-European Union member Switzerland are seeking equivalency.
Speaking to an audience at Lloyd's yesterday [Mar. 14], Mr. Bernadino [pictured] said Solvency II — a European Union directive coming into effect in 2014 that will codify and harmonise EU insurance regulation — is a long overdue mechanism.
"The potential benefits of having a more consistent approach to regulation and supervision in Europe are fundamental, especially looking at the role of the European insurance industry in the global community," Mr. Bernardino said in a lecture hosted by the Insurance Institute of London.
"We are living, of course, in exceptionally challenging times," he said. "The current crisis touches fundamental aspects of all of our economies."
In a report carried by the Insurance News Network, Mr. Bernadino was quoted as saying Europe's place as the world's most powerful centre of insurance must be preserved.
EIOPA's goal to this end is to "create this truly European supervisory culture," he said. "One thing I know: It's not a UK culture, a German culture, or a French culture. It needs to be a European culture."
As part of its encouragement of the creation of wider international standards, Bernardino said, EIOPA has advised the European Commission on moves by Bermuda and Japan toward equivalence with Solvency II.
Mr. Bernardino became chairman of the Committee of European Insurance and Occupational Pensions Supervisors, better known as CEIOPS, in 2009 after serving as the Portuguese insurance regulator. He became chairman of EIOPA after it replaced CEIOPS in 2011.
In addition to promoting financial stability, EIOPA seeks to protect the public interest, Bernardino said. "We are a public authority," he said. "We have public values."
EIOPA has sought to promote good practice in the variable annuities market and encouraged efforts to improve financial literacy, he said. EIOPA also published guidelines on the handling of complaints by insurance companies and released research on consumer trends.
One problem in the consumer arena, Mr. Bernardino suggested, is that documentation may contain too much information. It would be better to offer more "comparable, standardized information" and less of it. This principle applies on both the life and nonlife sides, he said.
More work is needed, Mr. Bernardino said, in such areas as the effects on consumers of payment protection insurance and the increased use of price comparison websites.
The low yield investment environment has implications for the stability of insurers, Mr. Bernardino said. EIOPA expects this climate to continue for years.
While the financial crisis has been recognized as a banking crisis, it has affected the insurance sector. A major lesson has been the need for financial institutions to use "robust and realistic risk assessment," according to Mr. Bernardino.
Risk can be mitigated or controlled, Mr. Bernardino said, but it cannot be made to disappear. "You cannot continue to ignore the reality of the risks," he said.
Bermuda hopes to earn mutual recognition with Solvency II and the Bermuda Monetary Authority has been working to achieve regulatory equivalence with its standards in recent years.
Equivalence would not only assist Bermuda companies to conduct business in Europe on a much more efficient basis, it would also help Bermuda-based re/insurers avoid duplication of regulatory oversight.
"Our goal is to achieve broad equivalence by 2012," the BMA's Shelby Weldon said at a panel discussion on Solvency II equivalence in 2010. "It's not our intention to duplicate the Solvency II criteria line by line. The foundation of Bermuda's efforts is a risk-based approach, but with an eye to the nature of the Bermuda market that includes captive insurers and global reinsurance companies."
Mr. Weldon continued: "We have been very hard at work over the last two years enhancing our regime. A lot of that work was geared to our commercial sector."
The two key principles of Solvency II—policyholder protection and improving the quality of insurance regulation worldwide—have long been included in Bermuda's regulatory legislation, Mr. Weldon said at the time, adding the island's existing regulatory regime is entirely consistent with international standards.
Read More About