[Updated with video] Bermuda Cancer & Health Centre announced the charity's plan to introduce Radiation Therapy to Bermuda, saying the benefits include the fact that patients will not need to be off-island for extended periods and the savings to healthcare costs will be $6 to 7$ million per year.
The charity said, "In addition to existing cancer treatment services available on the Island, the introduction of radiation therapy will close a significant treatment gap and will result in local "comprehensive cancer care" services.
"To understand the cancer burden Bermuda faces we can compare our cancer rates to those in the US, a comparable jurisdiction based on similar socio-economic factors. According to the American Cancer Society, men have slightly less than a 1 in 2 lifetime risk of developing cancer; for women, the risk is a little more than 1 in 3.
L to R: Judy White, Board Member, Denton Williams, Board Member, Tara Soares, Executive Director, Glen Gibbons, Board President, Gary Carr, Board Member.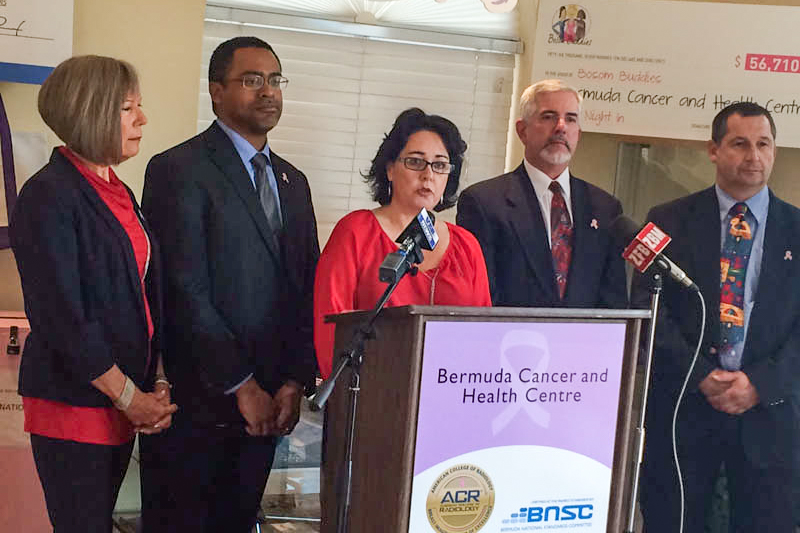 "Based on the current Bermuda population we would expect nearly 27,000 people will be diagnosed with cancer during their lifetime. An astonishing number.
"Also an astounding number is the number of people in Bermuda who have only basic health insurance or no health insurance at all. An estimated 18% of Bermuda residents or just less than 12,000 residents fall in this category – and they would likely not have access to overseas radiation treatment for cancer.
"So why are we now able to bring Radiation Treatment to Bermuda?
"There have been significant advances in treatment technology, such that a single machine [or linear accelerator] can be used to treat the majority of cancer. 67% of people diagnosed with cancer will be referred for radiation treatment.
"The cost of bringing this treatment to Bermuda is significant, but the benefits of having Radiation Therapy available locally are many, and include:
Patients will not need to be off-island for extended periods, likely staying in a hotel, perhaps alone, and incurring out of pocket expenses
Being treated at home means the patient will be surrounded by loved ones and caregivers, such as the PALS nurses• Most patients receiving radiation treatment will cope well with the treatment and therefore will be able to continue to work.
Palliative radiation, typically as a result of metastasized bone cancer, will help end of life patients to manage pain.
Employers will not need to replace an employee who has gone abroad for treatment
Pre-surgical Radiation Treatment can be provided to help shrink tumors in advance of surgery which can be performed locally
Treatment given locally can be provided at 1/3 of the cost of what local insurance providers are paying for the overseas radiation treatment.
The savings to healthcare costs will be $6 to 7$ million per year.
"There are many organization and charities which will benefit from the treatment being provided locally and have given Bermuda Cancer and Health their full support towards this important initiative. Local Health insurers, Medical Doctors Association, PALS, Friends of Hospice and the Bermuda Hospitals Board have expressed their support for the introduction of Radiation Treatment.
"At Bermuda Cancer and Health Centre our vision is "to serve our community building lives free of cancer and disease". By working together, with other not-for-profit charity partners, we will help reduce health care costs, provide a much needed service for cancer treatment and also ensure that the most vulnerable members of our community have the access to treatment available locally."
Read More About