[Updated with video] The Bermuda Cancer and Health Centre held a ribbon cutting today [May 17] to celebrate the opening of Bermuda's first radiation therapy unit.
BCHC said, "In 2014, Bermuda Cancer and Health Centre undertook a review of the gaps in cancer care in Bermuda. The most significant gap, which has been widely experienced by many residents, was the lack of access to radiation treatment for cancer patients. Now in May 2017, Bermuda Cancer and Health Centre has officially closed this gap by opening Bermuda's first radiation therapy unit.
"Radiation therapy is a significant tool in effectively treating cancer and also in assisting with the management of pain for many cancer patients.
2015. A MOU signed with Dana-Farber/Brigham and Women's Cancer Center, establishing a partnership between DF/BWCC and BCHC in the development of the Radiation Therapy  Unit.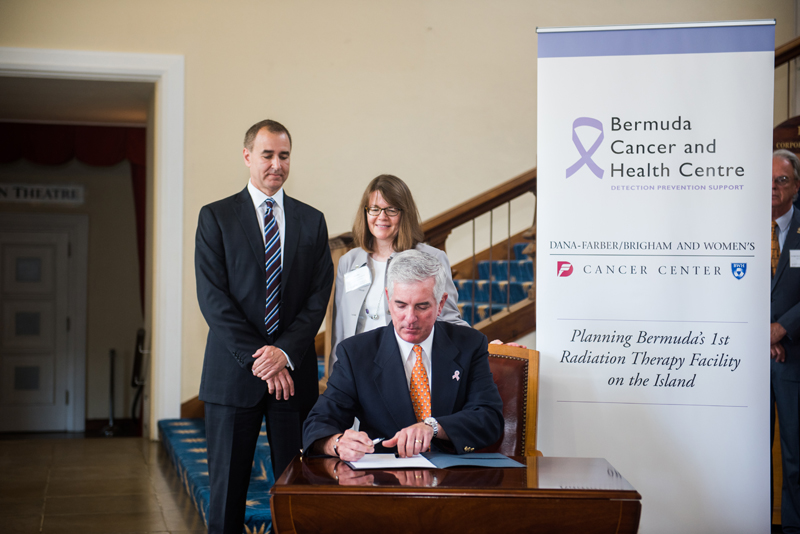 "But because radiation therapy has not been available locally, the only option for patients has been to seek this treatment overseas.
"Bermuda Cancer and Health Centre [BCHC] spearheaded this $10 million dollar initiative, leveraging technology and world-wide connectivity, to make radiation therapy available locally because of the significant benefit it could bring to the community.
"The new facility, located at Bermuda Cancer and Health Centre's Point Finger Road location, will bring significant benefits to our community and those that are affected by cancer.
"Since 2015, specialists from Bermuda Cancer and Health Centre and Dana-Farber/ Brigham and Women's Cancer Center have been working together to design, construct and develop a world-class, patient focused facility. . Through this clinical affiliation, BCHC will operate the service, using radiotherapy protocols that adhere to Dana-Farber/Brigham and Women's Cancer Center protocols in Boston, and experts from DF/BWCC will be available to advise BCHC clinicians.
2016: BCHC start the construction on Bermuda's first Radiation Therapy Unit.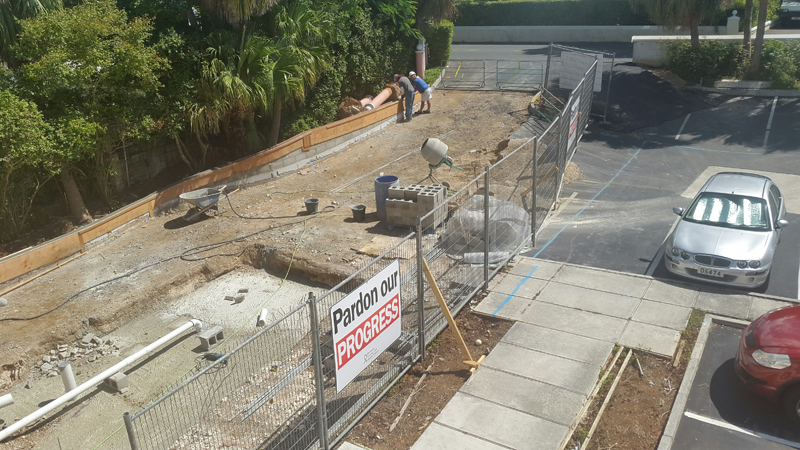 "We are excited to collaborate with Bermuda Cancer and Health Centre in establishing Bermuda's first Radiation Treatment facility", said Daphne Haas-Kogan, MD, chair, Department of Radiation Oncology, Dana-Farber/Brigham and Women's Cancer Center and professor at Harvard Medical School.
"The mission of providing every Bermuda resident with needed radiation therapy for their cancer has inspired us, and through this affiliation, all cancer patients on the island will have access to expertise from our radiation therapy researchers and clinicians who are at the cutting edge of targeted treatments, leading international clinical trials to discover newer and more effective therapies and pioneering the latest technological innovations.
"It is a privilege to, with all of you at Bermuda Cancer and Health Centre, continue our commitment to helping people maintain and restore their health in both local and global communities."
2017. Roof Wetting marking the end of the construction phase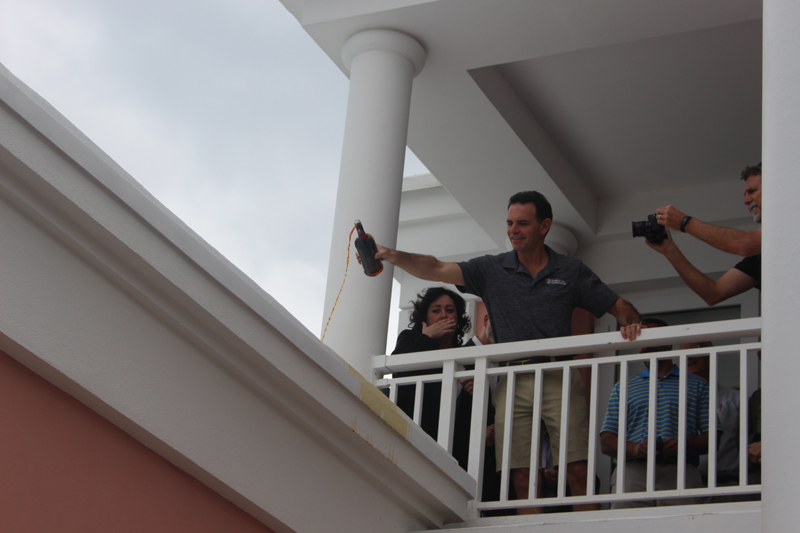 The construction phase took 9 months to complete and the project was completed on time and within budget.
Executive Director Tara Curtis states, "This is in large part due to the expert teams from the Dana-Farber/Brigham and Women's Cancer Center project management team, D & J Construction Company Ltd, Linberg & Simmons, Besco along with many sub contactors who have worked diligently on this project of national importance, meeting the critical needs in cancer care for many residents."
"We have a significant appreciation for the Bermuda Commercial Bank [BCB] who provided the Centre with a competitive bridging loan to ensure the project would not be delayed, giving time to build the funding through our capital campaign."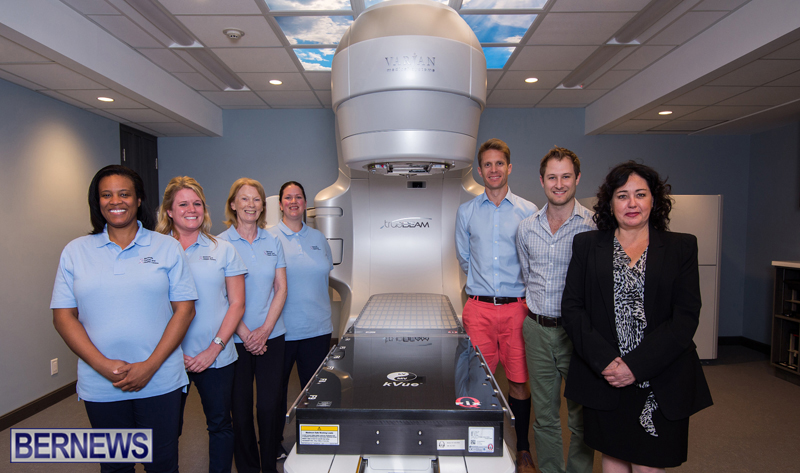 BCHC said, "With the Radiation Therapy Unit due to begin treatments as early June of this year, BCHC is "a buzz" with activity as they welcome highly trained specialty staff, and finalize the testing of the specialized equipment.
"BCHC has successfully recruited a highly qualified and diverse team of radiation specialists including: a medical physicist, a radiation nurse and a team of radiation therapists including a returning Bermudian.
"Currently over 25 patients are waiting to receive potentially life-saving or pain relief radiation therapy here at home in Bermuda. Patient treatment plans will be designed in collaboration with the team at Dana-Farber/Brigham and Women's Cancer Center and will be administered in Bermuda by our local team led by Dr. Chris Fosker, the Centre's medical director and clinical oncologist.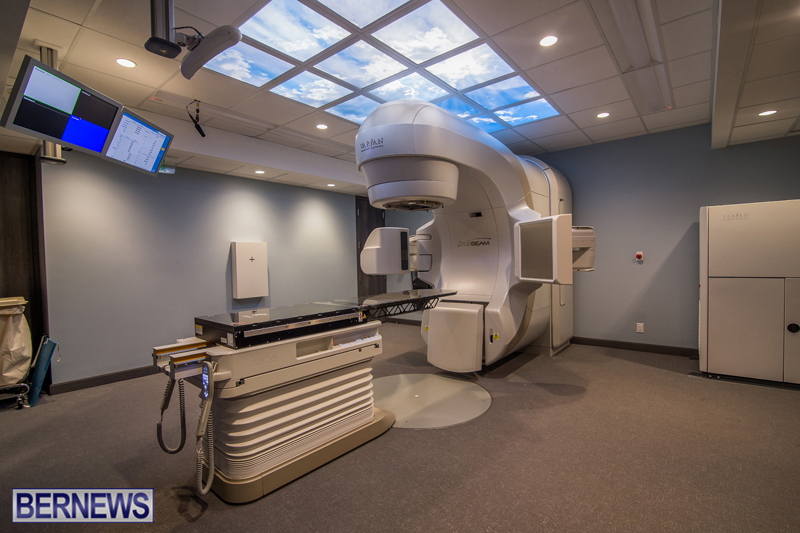 "Every aspect of Bermuda Cancer and Health Centre's Radiation Therapy Unit has been designed with the patient in mind; to provide the best clinical outcomes and patient experience" says Dr. Fosker.
"Our patients can find comfort in knowing that we have the best team available to work in Bermuda and we continue to work in clinical affiliation with Dana-Farber/Brigham and Women's Cancer Center." The DF/BWCC is a world leader in cancer research, and was recently ranked 4th in the United States for cancer care by US News and World Report.
BHB Chief Operating Officer, Mr R. Scott Pearman, comments: "We are very pleased to be a part of this important project so that people with cancer in Bermuda can access both chemotherapy and radiation therapy locally.
"Our Diagnostic Imaging department has worked hard with the BCHC team to upgrade our equipment and train for the new CT simulation required to support the radiation therapy service. We are very excited to see such important improvement to cancer care for the island and congratulate BCHC on the successful launch of this much-needed service."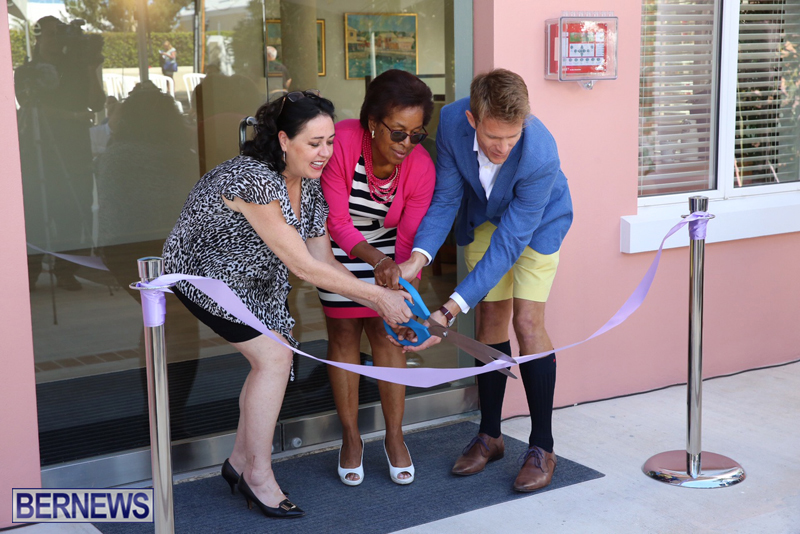 The Bermuda Hospitals Board will also play a significant role in making radiation therapy possible and, through optimization of services, the collaboration provides a very cost effective model of radiation treatment for Bermuda. The first step in providing radiation treatment planning requires the patient to undergo a CT scan.
These image scans are used to map the most effective treatment plan for the patient. The CT scanner at KEMH has additional capacity and through a collaborative agreement BHB and BCHC staff will conduct this initial scan at KEMH which will bring cost saving and significant benefit to the patients.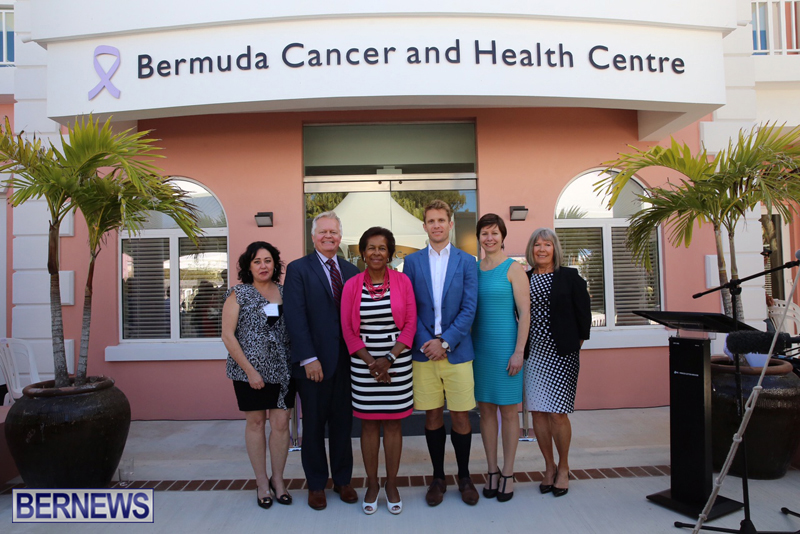 "Radiation therapy is one of the pillars of cancer treatment and an essential component of a comprehensive cancer care pathway. It is recommended for 60-70% of all cancer patients, which translates to approx. 200 people in Bermuda every year," BCHC said.
"Bermuda Cancer and Health Centre is a Bermuda registered charity #070. Consistent with their charitable purpose, uninsured and underinsured cancer patients who would benefit from receiving radiation will be given equal access to the services at no additional cost to them. For more information visit www.chc.bm."
The BCHC 'Radiation Newsletter' follows below [PDF here]

Read More About