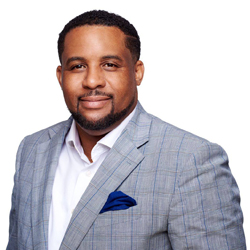 [Written by Don Burgess]
Mathematics whiz Dr. Lou Matthews will be leaving the leaving the Department of Education to help students all over the world.
Dr. Matthews, director of educational Standards & Accountability, will be working as a subcontractor RTI for USAID to serve as a senior mathematics consultant and will be based out of the Washington, D.C. area.
He told Bernews, "After seven and a half years I decided to leave the Department of Education to pursue some intriguing new opportunities in mathematics and education.
"I'm glad I returned home to work to support educational change. I was ready for a new challenge, experiencing a different model and widening my perspectives even more around teaching and learning."
He said it was a decision he has been looking forward to making.
"My closest friends who have followed my passions in and around mathematics and education and communities won't be surprised, but I think it surprised a lot of people."
He added, "I recently signed a contract with USAID to serve as a senior mathematics consultant covering Ethiopia, Malawi, Tanzania, Nepal and Cambodia. So there will be lots to do.
"I will be in Ghana working for two weeks in February, [and] possibly Haiti, and will be a visiting scholar/administrator at the Ohio State University."
He will also have speaking engagements in Toronto, Chicago, Orlando, and Las Vegas.
"There will be lots of travel, but I'm excited about moving in the purpose God has for me," Dr. Matthews said.
"At the heart of all of this is my love for Bermuda. I'm part of a team that will be bringing a Caribbean mathematics leadership summit to Bermuda in October 2018. It will be a busy year.
When asked what his legacy might be he said that is tough "because there are so many challenges. But one that I cherish most is helping the Ministry shift in the way it engages children at risk.
"We are not there, but we are not the same system we were in 2010 regarding responding to trauma. I think also my legacy has been my commitment to promoting student-centered teaching, coaching, problem solving and national math strategy."

Read More About