[Written by Mikaela Ian Pearman]
With Restaurant Weeks wrapping up this weekend, I had to make one more stop before the week was out. For my final dinner, I decided to try out Pink Beach Club at The Loren – Bermuda's newest hotel. The menu looked good and I hadn't dined there for dinner yet, so I figured now was the time.
The night I ate there, it was very cold so instead of dinner being held downstairs at Pink Beach Club, it was held upstairs in Maree Lounge – a cozy, library-esque bar with warm décor. Brian was my server for the evening and Dirk, Director of Food & Beverage was also on hand.
After perusing the menu, my husband and I decided to get different options for each course and share. For starters we chose the Soup of the Day – Pumpkin and the Kale and Caramelised NY State Apple Salad with butternut squash, cranberry, pecans and maple vinaigrette.
The soup was incredible. It was full of pumpkin flavor, which may sound weird, but I find many pumpkin soups have too much cream in them. This soup had the perfect splash of cream without overpowering the pumpkin. The salad was also great – it was crisp, the dressing was tangy and the pecans added great crunch and sweetness.
For mains, we opted for Local Catch – Rockfish with celery root puree, sea beans and chardonnay emulsion and Butternut Squash Ravioli with braised greens and pinenut sage cream.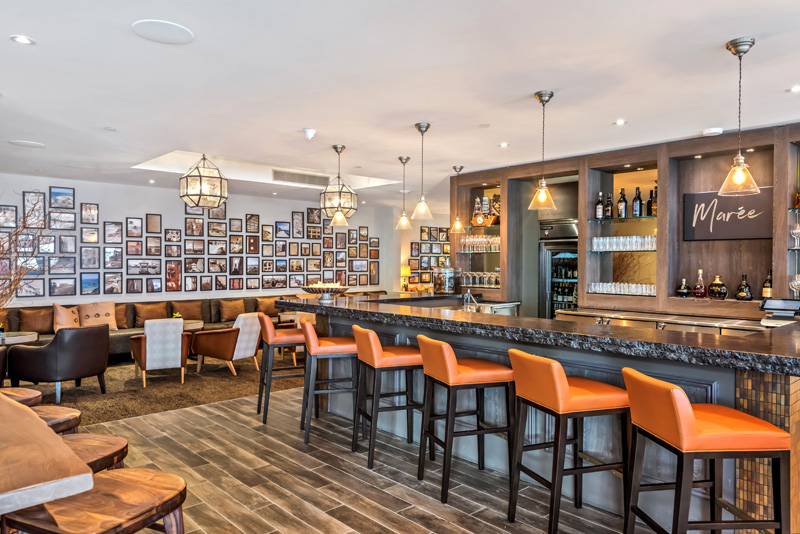 So let's talk about the fish. I eat pan seared fish often and it's usually good. This fish was incredible – light and flaky but super crispy as well. It was obviously seared in a screaming hot pan. The celery root puree was decadent and velvety.
I easily could've eaten an entire plate of that alone. The sea beans added a nice crunch to the dish, but honestly, the fish and the puree were plenty for me.
The ravioli was another homerun. It's handmade in house and that was obvious by how delicious and fresh it was. The sage in the sauce paired beautifully with the squash filling and the pinenuts just added something extra to the dish. I suggested to Dirk that he should send me home with a takeout portion of this ravioli as it was one of the best I've ever had.
For dessert, we chose both selections – Pink Mini Chipwiches and Pumpkin Spice and Maple Crème Brulee. I loved the mint chip ice cream [my favourite!] that came with in the ice cream sandwich. It rivaled Bailey's, which is truly the best. I will say the cookies were too hard and difficult to bite, but it wasn't a big deal.
The crème brulee was light, not too sweet and the maple flavor came through nicely with the great pumpkin spice. It was a fantastic way to end a meal because it wasn't heavy, as many desserts are.
So with restaurant week finishing on Sunday, if you haven't checked out The Loren yet, I urge you to go. It's cozy and romantic for the couples but also fun and lively for friends. And the food is to die for.

This year's Restaurant Weeks is running from January 11 to February 4, with the largest number of participating restaurants ever, at 51. The three levels of pricing for this year's dinners are $32, $42 and $52, and lunch is also being offered by 14 restaurants for $22. You can view all our coverage of Restaurant Weeks here, the full list of lunch menus here, the list of dinner menus here, and all coverage of cuisine here.

Read More About
Category: All, Entertainment, News