A Sunday filled with double-header matches at four venues served to sort out the survivors in the Friendship Trophy and Shield competitions.
Winners on the day in the former included Dandy Town, PHC, Robin Hood and Boulevard, while Shield advancers included Devonshire Colts, Southampton Rangers, Somerset Eagles and the Hot Peppers of Hamilton Parish.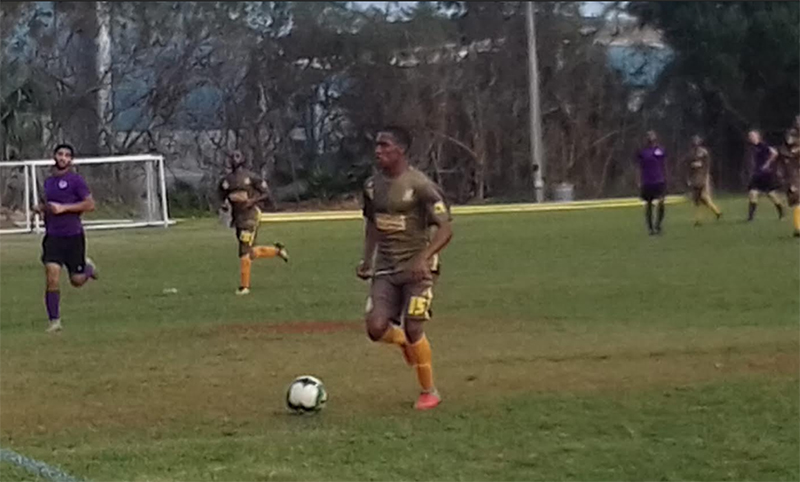 Friendship Trophy Round-Up
Dandy Town 1 X-Roads 0
Dandy Town advanced to the semifinals of the Friendship Trophy with an ugly but effective win over X-Roads at St. John's Field, which saw the Hornets side lose their captain and goalscorer Angelo Simmons to injury.
It was Simmons' strike on the half-hour of the first half that ultimately settled the result in favour of the home team, as he took advantage of poor communication between opposing goal-keeper Dashun Cooper and his central defence to nip inside the top of the penalty area and poke the ball past an exposed, advancing Cooper.
However, it would be a shortened appearance by Simmons, as he had to be aided off the pitch midway the second half with an ankle problem that could keep him out for more than the 15 minutes he missed yesterday.
The game started with a sense of ignominy that revealed itself in just the fifth minute when Town were forced into a goalkeeping change when starter Treadwell Gibbons clashed with X-Roads attackers inside his penalty area and incurred a knock to a knee, which precipitated the coming on of schoolboy 'keeper Jaiden Manders.
And Manders would prove his pedigree and worth in gold, showing few nerves and marshaling his defence with aplomb beyond his years, thwarting X-Roads' front-men, including the normally free-scoring Donavan Thompson with impeccable positioning and decision making.
Thompson twice had low efforts dribble inches wide either side of goal, while Rico Beek did manage to get the ball into the net past Manders, only to have the play cancelled for his being in an off-side position.
The second half featured more nondescript play on the part of both teams, with each short on attacking ideas and during the brief and rare moments of positive action each team's goalkeepers would give nothing further away.
"My team today didn't play the match, they played the opponent and once you do that it's difficult," said Hornets coach Devarr Boyles following the game. "You have to have a calm mind in order to play and today we were too emotional, which I guess came as a result of the last game we had against X-Roads.
"We never settled and got the opportunity to play solid football, we were lucky to have gotten a goal, but no real football was played, it was just a result."
Often key to the second half of the league season is to get through the Christmas period healthy, which Town did not do with the losses of Simmons and Gibbons, however Boyles was not overly disturbed by the potential injury situation.
"Lucky for us we have four goalkeepers, in fact, so I don't see that being an issue," explained the coach. "Angelo is one of the big fish and we'll have to find a way.
"He's the leading goalscorer at the club the last three years so he would be a miss, but we're still assessing the situation and seven days is a long time."
Nevertheless, it appears for the moment that Manders, who was due to compete in the Expansion League Festive Tournament, has secured a spot between the posts for the big boys.
Somerset Trojans 0 PHC Zebras 1
Reigning Friendship Trophy champions PHC Zebras advanced to the next phase of their defence with a 1 – 0 win over the Somerset Trojans at the Somerset Cricket Club. The lone goal of this contest came in the 78th minute from Rakeem DeShields.
Boulevard Blazers 2 Devonshire Cougars 1
Boulevard Blazers continued their form improvement, advancing beyond Devonshire Cougars at St. David's through a 2 – 1 win, getting single strikes from Clay Darrell and Ernest Trott, while Zari Simmons scored the lone goal for the Devonshire Cougars.
North Village Rams 2 Robin Hood 5 – After Extra Time
The second game of the day at the Bernard Park also needed 120 minutes to decide a winner, with Robin Hood defeating the North Village Rams 5 – 2. North Village Rams got goals from Che'kai Caisey and Jahquan Smith-Deshields, while Robin Hood got an own goal and a Temiko Goater strike to send the match into extra-time at 2-2.
During the over-time period Robin Hood schemer Antwan Russell started a scoring binge for his side in the 104th minute, allowing for a 3 – 2 lead. Ereico Outerbridge made it 4 – 2 in the 116th minute and Lejuan Simmons scored in the 120th minute to confirm disappointment at home for Rams, who will see no repeat final appearance.
Shield Round-Up
Devonshire Colts 4 Vasco 1
Devonshire Colts eventually overwhelmed a short-handed Vasco to move into the Shield semifinal draw with a 4-1 triumph in the curtain-raiser contest at St. John's Field.
Despite having a Godfrey Kyle sent off via a straight red card for an intentional foul Vasco shocked their opponents in seizing a 1-0 lead after 30 minutes when Ryan Lopez converted a penalty.
However, traffic would line up in the opposite direction following, as Colts stormed back with four unanswered strikes, started off by K'Zhai Bailey in the 33rd minute, followed by further first half efforts from Kyle Jones [37 minutes] and Dominic Lambe [46 minutes], while Deszion Davis completed the rout in the 85th minute.
Southampton Rangers 2 St. George's Colts 1 – After Extra Time
At Bernard Park, Southampton Rangers needed 120 minutes to see off stubborn and resilient St. George's Colts side.
St. George's went up first via a goal from Tre McCallan, while Rangers equalized through Jarazhino Bassett, a former player for the east enders. Neither team would further trouble the score until the 118th minute when Donte Brangman converted from the penalty spot to earn Southampton victory and a spot in the semis.
Somerset Eagles 4 Young Men Social Club 0
At Somerset Cricket Club, Somerset Eagles handily defeated visitors Young Men Social Club 4 – 0. Tahj Wade gave Eagles the lead after 12 minutes, before Ethan Fubler doubled the lead in the 31st minute.
Anwar Telford made it 3 – 0 with a strike in the 49th minute and it was then left to Jahnai Ratteray to complete the misery for Bluebirds when he found the back of the net in the 87th minute for 4-0.
Hamilton Parish 5 Wolves 1
Hamilton Parish defeated Wolves 5 – 1 at St. David's as Shayne Hollis and Christian Smith each bagged braces for Hot Peppers.
Hollis scored the only goal of the first half during time added on, however this was soon doubles as Smith struck pay-dirt in the 56th minute. Chris Caisey would make it 3 – 0 with a goal in the 66th minute and Smith would get his second six minutes later.
It was left to Hollis to complete Parish's scoring act in the 82nd minute, still their clean-sheet was ruined when Russ Ford tallied a consolation effort moments from time.

Read More About