A Student Leadership Summit was held in conjunction with One Love Foundation last month, educating attendees on the "10 signs of healthy and unhealthy relationship behaviors."
A spokesperson said, "Bermuda Governor Rena Lalgie and Deputy Governor Alison Crocket joined as VIP guest speakers at a Student Leadership Summit hosted in conjunction with the One Love Foundation.
"The event, held July 12 to July 14, was staged at Government House to educate students on the 10 signs of healthy and unhealthy relationship behaviors, empowering them to identify and avoid abuse and learn how to love better.
"The Deputy Governor opened the summit and Her Excellency offered closing remarks.
"The curated list of additional speakers and dignitaries included: The Hon E David Burt, JP MP Premier of Bermuda, Jevon Williams Chairman of The Coalition for Protection of Children, Tawanna Tannock immediate past chairperson of the Human Rights Commission, Patrice Madeiros Domestic Violence Liaison Officer at the Bermuda Police Service, Dr Tiffanne Thomas Executive Director of Transitional Community Services, Laurie Shiell of the Centre Against Abuse, Dr Sandy DeSilva Executive Director of the Family Centre, Dany Pen of Raleigh International, Tina Laws Executive Director of the Women's Resource Centre, and Puisne Judge, Justice Nicole Stoneham.
"They all shared their unique lens and underscored their support for this initiative."
"We are so grateful that the Government House was the site for this inaugural event," said Tammy Richardson-Augustus, a law partner, member of the Bermuda Bar Association, and a Justice of the Peace who was introduced to One Love Foundation in 2019 by Marie-Louise Skafte, a multi-jurisdictional lawyer and One Love Board Member.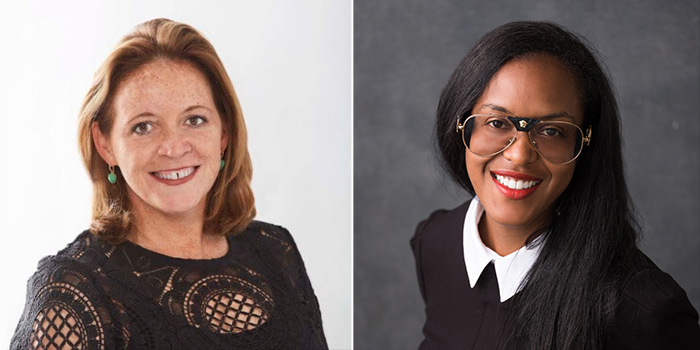 "The venue and the unwavering support of the Governor and Deputy Governor lent credibility to the event and signaled to this demographic the significance of this issue and the value of their voice.
"In addition to the keynote speakers, I am indebted to my nimble and effective local team of Gemma Godfrey of the Whitfield Group and Jana Swainson Roberts who graciously offered their talent and time to ensuring the event ran seamlessly; to the courageous students who came engaged and created a safe space for their peers to share and grow; and finally to the vision of the Love family and indomitable passion of the One Love Team that created the impetus for this movement."
The spokesperson said, "The One Love Foundation was founded in honour of Yeardley Love, a 22-year-old college student whose life was tragically cut short when she was killed by her ex-boyfriend. Since its launch, the foundation has educated more than 1.5 million young people through online and in-person workshops on signs of unhealthy and healthy relationship behaviors—emerging as a leader in preventing relationship violence and abuse.
"Partners have included professional athletic teams, governmental, financial and educational institutions.
"The Student Leadership Summit consisted of both live and virtual sessions, with the physical event staged at the Governor's official residence for 30 students aged 14-22, of all genders, and from public and private school, high school, and university. Participants enjoyed refreshments, ice breaker games, and commenced as well as ended each day with impactful keynote addresses to bookend the virtual segments of the One Love educational program.
"Attendees reported feeling connected to the speakers and each other. Online, students identified feeling seen, empowered, safe, enriched, and engaged following the sessions.
"One Love has developed an extensive resource library featuring more than 40 pieces of educational video content, seven discussion guides, and an active blog—all of which are available to use at no cost through the One Love online Education Center.
"One Love's educational experiences are rooted in six key learning objectives: understand and engage in conversations about the 10 signs of a healthy and unhealthy relationship, practice healthy behaviors, communicate boundaries and practice consent, help a friend, navigate breakups, and access resources."
"We are incredibly grateful to Tammy, Marie-Louise and all those who champion our mission throughout the world," said One Love CEO Katie Hood whose 2019 TED Talk on relationship health has been viewed over 8 million times.
"Relationship health is a universal issue and early education is key in shifting societal norms for generations to come."
Ms. Richardson-Augustus said, "With the success of this inaugural Summit, we are setting ambitious goals to shift to a preventative culture in which this training is part of the curriculum in schools, induction training in various organizations, and more.
"In common with other countries, Covid-19 simultaneously laid bare some of the deficiencies in our local infrastructure and exacerbated the need for helping services. That created an 'aha' moment for me: namely, to bring One Love to Bermuda and thereby provide a catalyst for courageous conversations and to implement training to reduce the pipeline of persons who experience abuse. What a better place to start than with our young people?"
The spokesperson said, "To register for upcoming One Love virtual events, please visit joinonelove.org."
Read More About