Evolution Healing Centre has launched the STROKE rehabilitation online survey.
A spokesperson said, "We are excited to launch the STROKE rehabilitation online survey [Sustainable Therapy & Rehabilitation Optimizing Kinetic & neuromuscular Excellence]. Stroke rehabilitation is a very relevant topic and area of need.
"In 2020, data collected from the Bermuda Health Board revealed that there was a total of 261 stroke incidences for the year. Additionally, the Ministry of Health has identified stroke as the second leading cause of death in 2019 and the third leading cause of disability in Bermuda. Rehabilitation and stroke prevention continues to be an international priority, and as such, here in Bermuda data is needed to understand what is being delivered in practice.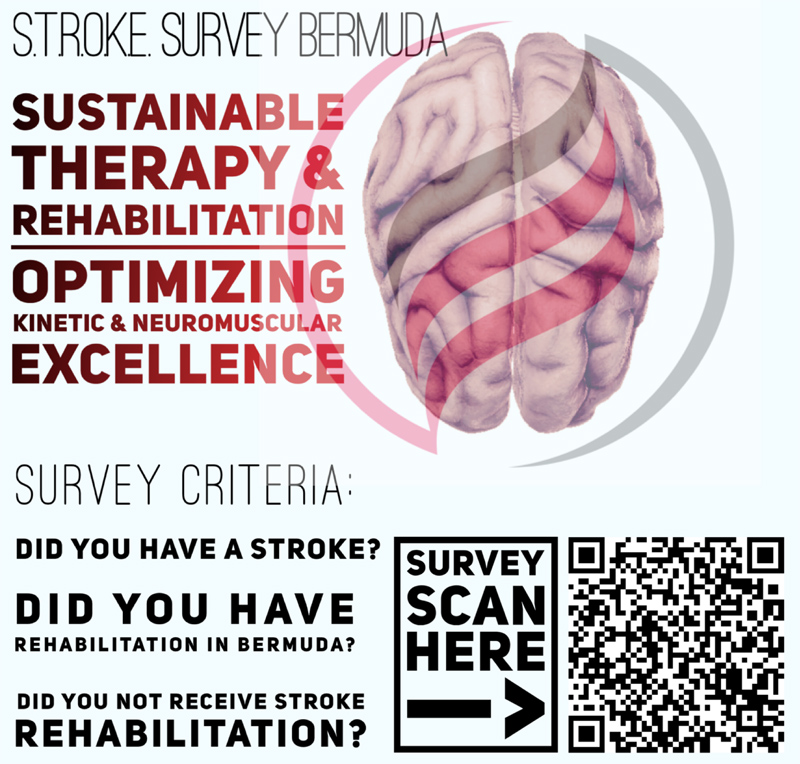 "With this in mind, we have created a survey to begin gathering some of this data. This survey is in two parts: the first part asks for some information about the type of stroke you had, the rehabilitation you received, and you can also add additional comments. The second part uses the stroke impact scale [short form] which asks from your perspective how the stroke has impacted your health and life.
"Please read the criteria below and see if you would like to take the survey:
Any person that has had a stroke incident [defined as ischemic or hemorrhagic].
Resides [but not necessarily a resident] in Bermuda.
Had the experience of stroke rehabilitation in Bermuda.
Or the person was eligible for stroke rehabilitation but did not receive those services in Bermuda.
"If you are not eligible but you know someone who is, please forward the information and survey link.
"The survey is estimated to take 10-15 minutes of your time. There is an opportunity to answer some questions with more detailed feedback [the more information the better about your experiences] which may take longer.
"Thank you so much for all your help with this important project. The more data we can collect the better it will be for our community."

Read More About
Category: All