Some of the positive news stories from this past week include 'Walks The Walk' raising $34,438 for various charities, Chef Fred Ming showcasing Bermuda cooking in Illinois, a Cahow Chick being hatched "live" on Nonsuch Island, Catlin Bermuda's 'Mobros' donating over $31,000 to charity, and Digicel extending its rugby league support.
In addition, Bermuda's athletes had a banner week, with Reggie Lambe scoring the game winner for Mansfield Town; Djair Parfitt-Williams scoring twice in a West Ham win; Chas Smith winning gold, bronze & the MVP Award in Canada; locals gymnasts winning medals at a meet in Maryland, Flora Duffy placing third at the ITU World Series Triathlon in Abu Dhabi, Bermuda's national football team drawing 2-2 with Grenada, and Bermuda's rugby team securing a 55-3 win over the Turks & Caicos.
We also posted various community videos and photo galleries including the dedication of the Simmons Prayer Garden, Berkeley Institute Dance Concert, Pirates of Bermuda fundraiser, East & West Ambulance Service launch, SPCA Paws to the Park, Women's Resource Centre Open House and sporting events including middle school rugby, Bermuda vs Grenada football, World Dressage Challenge and the Telford Electric Magic Mile.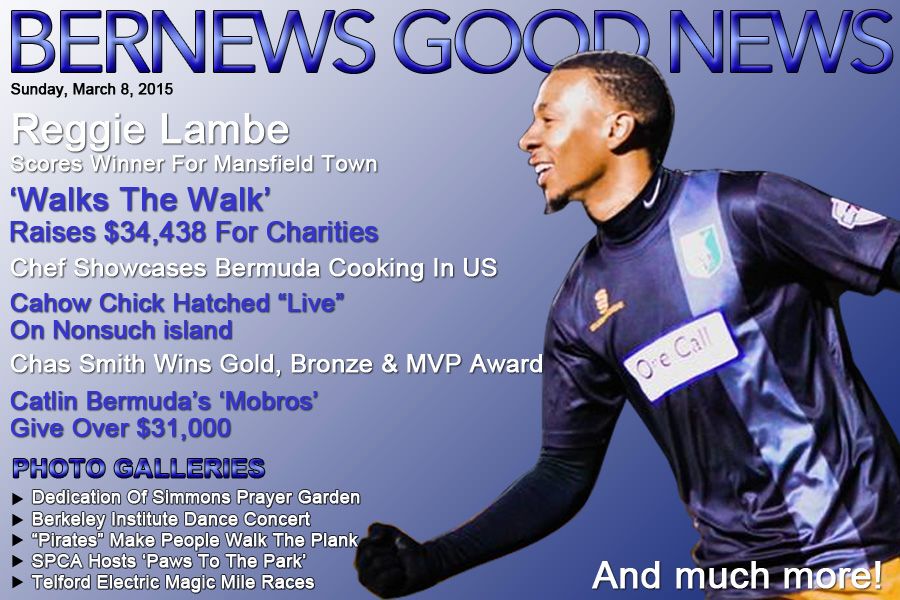 In an effort to highlight some of positive news happening in our community, we supplement our standard morning and evening email newsletters with a special Sunday "Good News" email newsletter edition, which strictly focuses on the positive news from the past week.
You can sign up to have the free newsletter delivered via email here, and/or access the links below. In addition, for those who like positive news, please feel free to visit our sister site ForeverBermuda.com, which seeks to showcase the best of Bermuda.
Links to some of the 'good news' from the past week are below:
Read More About