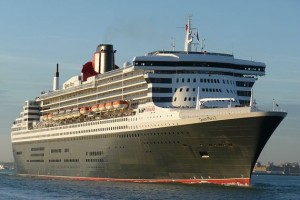 Mutiny is in the air among British Cunard aficionados following the legendary shipping lines's decision to switch registration of its vessels
from the UK to Bermuda.
Britain's "Daily Mirror" tabloid reports today [Oct. 22] that UK passengers are infuriated by Cunard's Bermuda move, claiming the firm is abandoning the British heritage it promotes so heavily in advertising.
However, the newspaper points out it's only in recent years that Cunard ships have been exclusively UK-registered –- vessels were flagged in both Norway and the Bahamas in the past.
Cunard boss Peter Shanks has announced that the decision to reflag its fleet in Bermuda is to allow the ships to hold wedding ceremonies at sea –- a lucrative market already for sister cruise lines P&O and Princess.
Critics fear the change is designed to save money rather than make it, because it will mean crew wages and ­conditions will no longer be governed by UK employment law.
Richard Chalu, from Norwich, wrote on Cunard's Facebook page: "How many cruise ships are there in the world? Hundreds. How many do I put on a pedestal? Three. We ARE Cunard. There should be none other like you. This tissue-thin wedding excuse is a veil for avoiding the UK's National Minimum Wage laws."
But defending the decision, Mr Shanks said: "We pride ourselves on how we look after every member of our crew."
The change of registration will take place after the ships' world cruises at the start of 2012. A "Cunard Weddings at Sea" brochure is issued next month and couples can book from December.
Cunard currently operates three vessels — "Queen Mary 2″ [pictured at top], "Queen Victoria" and "Queen Elizabeth".
Read More About