You have the green light to go ahead and try something new, something different at Green Lite Café & Eatery in Somerset and that's exactly how this eatery got its name. Factor in that it's 'lite' and healthy food and you have the whole picture.
This creative yet practical name reflects the creative personality of café owners Shawnette & Joseph Smith. Green Lite Café & Eatery is directly opposite the Somerset Cricket Club and was once known and loved as Shabazz Bakery.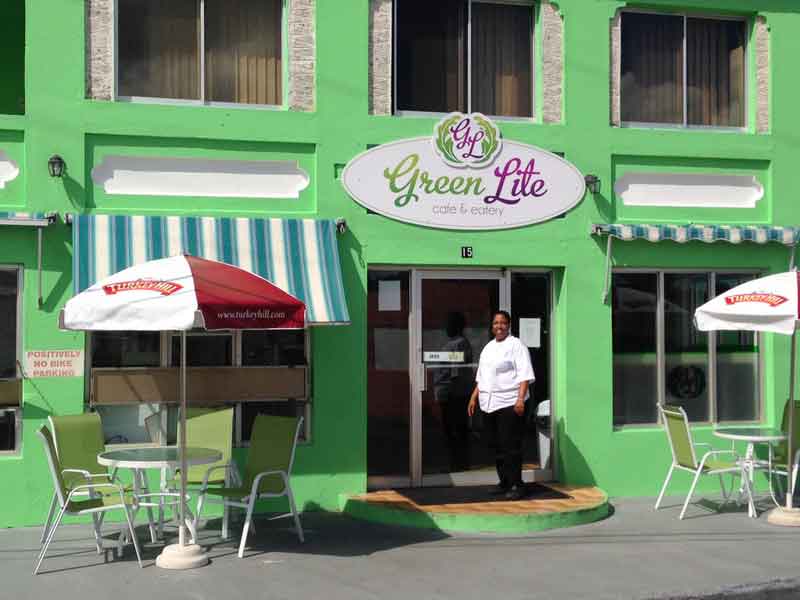 This is where islanders and tourists would flock for traditional Bermudian fare, steak 'n take, fried chicken and rice. While these foods are still available at Green Lite they are taking the back burner to the healthier options of a vegan buffet.
The Smith's have transformed their family business in only six months and they have a giant vision; they want to expand their business through the island, including a formal dining vegan restaurant. All of this from humble beginnings selling snowballs from their closed down building only a year ago.
Green Lite Café is not just about food; their journey will include forming a charitable foundation where they can give back to the global community and spread their concept as wide as they can. With connections in Bermuda, the US and Israel they are already on the way to making it a reality.
Shawnette enthused; "There are no borders in this global economy and sometimes we create borders in our own mind – we need to have a big vision. You have to dream big in order to succeed."
The café has a good following on Facebook and the Vegetarian Society website. Visitors to Bermuda have been known to make a special trip to Green Lite in Somerset, due to their good reviews with UK and US vegan online communities. One UK visitor ate there several times during her visit, making a point to introduce her family and friends to the eatery and posted eager reviews online.
The salad bar and vegan buffet at Green Lite is priced by weight to encourage customers to try a small amount of something new, just to see how they like it. People are often surprised at how much they enjoy the vegetarian foods.
Shawnette shares; "Our recipes have been handed down over 20 years from family and from living the vegan lifestyle."
The husband-wife dream team are also successful caterers; they supply a full vegan menu of dishes every Friday to a health food grocer in Hamilton, It's Only Natural on Princess Street.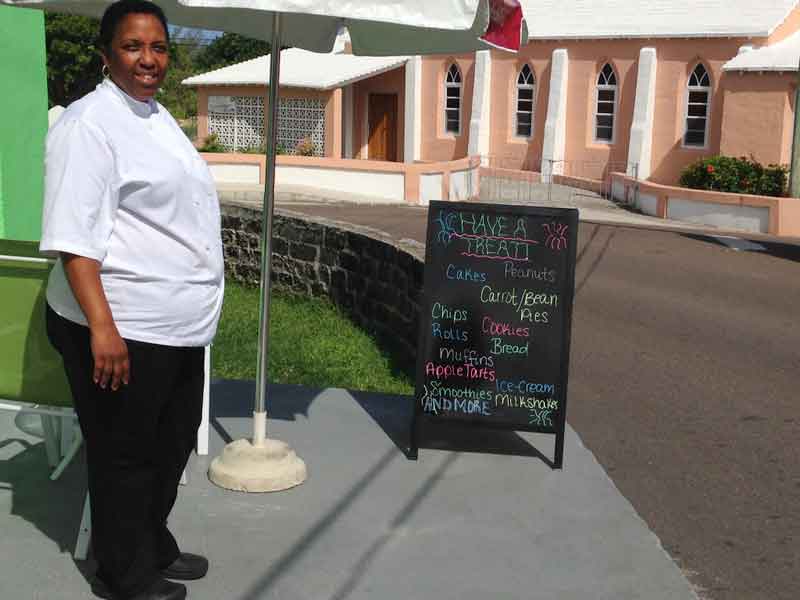 Aside from expanding the business, they are also expanding their kitchen staff, which involves training up chefs to make exquisite vegan cuisine.
Shawnette, a Bermudian who lived in Israel until 8 years ago, has advice to entrepreneurs starting out: "It's your dream and your vision, so don't let others deter you from that, stick to it and have faith – that's exactly what entrepreneurship is. Even if it doesn't work out the first time, you keep at it or try it again and it will come."
Her husband Joseph agrees: "They say that success is 99% failure, it only takes one time to get it right. When people say no it can't be done, it gives us the drive to make it happen."
What does it mean to be an entrepreneur? Joseph thinks back on all the hard work and dedication; "it's not all glamour and there are no shortcuts. It's important to know what you want and be prepared to make sacrifices to get it." He still holds a full time job as the couple patiently grows their business and works toward their vision.
Like many entrepreneurs starting out, there's no such thing as holidays for this couple – they're committed to the journey and are putting in the hard work now; they trust the rewards will come later.
They do, however, recognise the importance of downtime.
"Often when we close up at night, even as late as 11.00pm, we'll take a drive, talk about our thoughts and release the day," Shawnette shares. "That way in the morning any stress from the day before is not there and we can start fresh."
"We have a morning routine where we are thankful for what we have and let it be known in prayer, the things we deserve so it can be let in. With this, when opportunities come our way, we see them."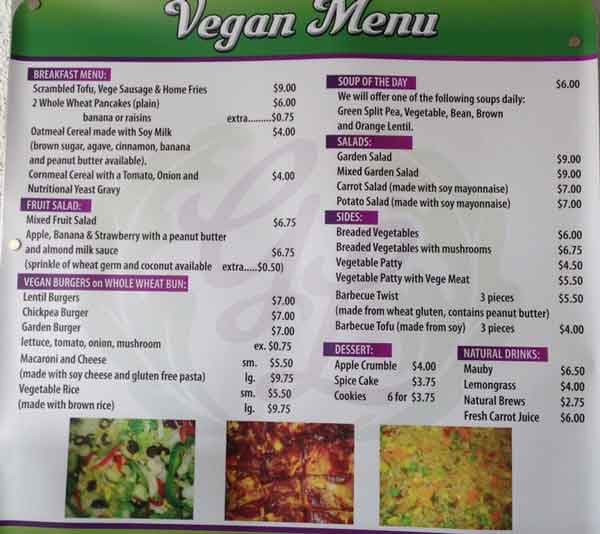 Shawnette's greatest inspiration is her faith and her mom. "Mom is a fantastic cook and I've seen her work hard for 35 years and she's taught me a lot. Many of my decisions are based in my heart, spiritually, to fulfil my purpose and to be the best I can be."
"We have great conversations with our customers, sometimes they come in for some spiritual nourishment and then they feel great in their body and their mind."
Joseph is planning to help the business community by creating a brochure on starting your own business, to make their path a little easier. It will break it down into basic steps and offer the 'dos' and 'don'ts' that lead to greater success. He says, "Everyone's path will be different but this will help them."
He is keen to see more new businesses start up. "The only way this country will grow out of the economic recession we are in is for us to become interdependent. We cannot wait around for a company to give us a job."
Of course with each new business there's also a chance that more jobs will be created.
The Green Lite Café owners are among five local entrepreneurs who have been recognised by CoffeeWorks Bermuda for Global Entrepreneurship Week, starting November 17th.
- Written by Vicki Abraham, on behalf of CoffeeWorks Bermuda. This is the second in a series of profiles for Global Entrepreneurship Week [GEW]
Read More About