[Written by Dale Butler]
Pamela 'Ms. Utopia' Butterfield has many fond memories of local music. Her own career started at the Heron Bay and Sandys Secondary Schools and Vernon Temple AME Church when she sang in their choirs in the 60s and 70s. Musician Darryl Simons was one of her main tutors.
To her it was fun until she had a chance to perform as the lead singer in a quartette at the Ruth Seaton James Auditorium. After performing island-wide, she was called 'The Queen of Karaoke' and later won a competition held on Court Street. Often called on to sing at weddings, parties and family events, she also contested 'The Bermuda Idol,' which was held at the City Hall, and was eventually featured with John Burch and The Legends.
She produced a farewell production for Martha Dismont and family and Dr. Stephanie Gutham which featured David 'Poppa D' Burch, Cleveland 'Outta Sight' Simmons, June and Taur Caisey, to name but a few. Upon the demise of Gregory Seymour [February 22, 1954 - December 29, 2021] she embarked on a passionate non-stop four day hunt for photos and information about him and his performances in the hottest bands in Bermuda during the 1970s. The information she found will ignite a fire of interest in this popular era that has lasting memories.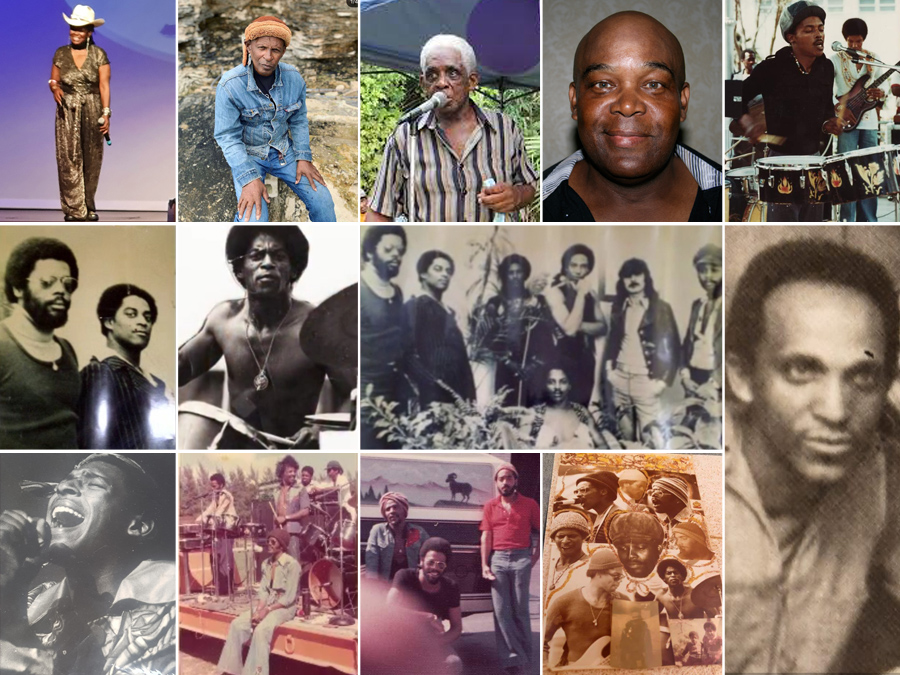 Pamela was an old school friend of Greg's and she had followed his career and involvement with Naked Bridge, Watford Bridge and Burning Ice. Greg performed as a lead vocalist with these bands from time to time. He had a passion for fashion design, which he shared with Pamela when they took a two year course at the Bermuda Technical Institute, taught by Mrs. La Matt from Barbados. When he stepped on stage, she said "he was a fashion statement with a style of his own and Bermuda's top embroiderist, which made him number one."
Pamela was a fan who followed these bands from one end of the island to another when groups like Charles Michael "Curtis" Clarke and The Cortinas and The Sapphires were said to have the island on fire—with seats sold out days before each event and crowds, still gathering outside, hoping to get a glimpse of them or just stand around and dance. Popular venues were Mount Area Restaurant & Nightclub, St. David's; Ex-Artillerymen's Club, Hamilton; RAA Club, St. George's; Top of the Town, Pembroke; Warwick Workmen's Club, Warwick; Game Fish Inn, Somerset; Clayhouse Inn, Devonshire; and Galaxy Nightclub, Hamilton which became their Harlem Apollo Theatre, with a favourite Dockyard venue at Lagoon – "West End Entertainers' Club" – becoming their home for numerous after hours performances.
The band, Burning Ice, was formed with members leaving other groups like The Dynamics, Naked Bridge and Watford Bridge. In a beautiful photograph in Music on the Rock in 1995, featured band members were:
Colin Lee – percussionist, vocals
Charles Taylor – drums, vocals
Wendell Darrell – percussionist, vocals
Danny Rowling – bass guitar
Anthonio "Jughead" Dill – piano, organ, vocals
Jeffrey Marshall – guitar
Basil "Bumpy" Burns – congas
Pam's research is key at a time when many are passing and those left are now reflecting. We've learnt that the photographs of the Burning Ice which were given to me in 1995 are different to those of the original group. It would appear that the original group consisted of:
Artie Simmons – saxophone
Herman Burch – guitar
Gregory Lapsley – guitar
Sinclair "Sinbad" Simmons – drums
Anthonio "Jughead" Dill – piano, organ, vocals
Basil "Bumpy" Burns -congas
Gregory Seymour who started with "Naked Bridge" at age 17. Later he was taken by his father, James "Dottie" Seymour, to his cousin Sinclair "Sinbad" Simmons to mentor him in "Burning Ice".
The band also gained a good reputation in 1974 when they introduced 'The Battle of the Schools, Groups, Reviews Contest' with key organizers Cleveland 'Outta-Sight' Simmons and David 'Poppa D' Burch. Later productions included organizers Melvyn Joell and Lee Harvey.
Popular songs Burning Ice performed in their own style became signature songs like Down by the River, Benny and the Jets, And I Bet Ya, One More Time, and We Are Family were well-received by a large fan club of dedicated followers. Greg was one of the lead singers along with Charles Taylor, Basil Winfield 'Bumpy' Burns [Goater] and also filling in, as vocalists, were Angelo Maynard Rashid, Cleveland 'Outta-Sight' Simmons, who was said to have been given a milk bottle and microphone at birth, served as MC, grandmaster, manager, vocalist and producer. Everest 'Smokey' Robinson did public relations for the group.
One of the last performances of Burning Ice and The Sapphires took place at lunchtime on May 24, [circa 1970s] at the Bernard Park, before the softball diamond was developed, and later that day at the finish line of the Derby at the old National Stadium before thousands, with many families camping out on their blankets on the famous eastern hillside.
The band then departed for a two week stint in Canada "to open a new nightclub" with Montague Shephard, Jr, who performed congas and was their road manager. They ended up staying 10 years in Canada and were grateful for the help and support given to them by Patrick Fortune, Debbie & 'Punchy' Burns.
This is the first time, as the island's professor of music, that I have sat with such an enthusiastic researcher as Pamela 'Ms. Utopia' Butterfield, who spent 96 hours chasing former Burning Ice performers and fans in the UK, Canada and Bermuda.
This is also the first time I have interviewed someone who spent so much time working on this project with numerous stories and a set of photos I have never seen. I commend Pamela for her enthusiasm and successful acquisition of information about a group that left lasting memories in the minds of Bermudians.
She and I extend our condolences to Gregory Seymour's wife, Jennifer, and sons Jessie and John. Gregory's passing resurrected these facts. A special thanks is extended to everyone who assisted Pamela with this task [Tasahi Tasa Belboda Showers, Wensy Woolridge, Selena 'Va Va' Fields, Randy Lambert, Wendell & Marilyn Darrell, Angelo Maynard Rasheed, Artie Ferguson, John Burch, June Caisey, Jessie, John & Jennifer Seymour]. No doubt, there are additional stories. So, let me stress that Atlantic Publishing House does record stories as part of its "Legacy Insights" and I can be reached at 595-9841 or daledbutler@gmail.com. 'Ms. Utopia' can be reached at 1-441-505-7443 or e-mail auntiepamelasworld@gmail.com.
May Gregory Seymour rest in peace, he's is our prayer.
- Dale Butler has been Bermuda's Professor of Local Music since his return from university in 1976. He has produced books, documentaries, musical tributes, music and restaurant reviews and regularly records senior musicians at his "Bermuda Music and Nina Simone Media Centre." When Minister of Culture, after signing a Memorandum of Culture with Cuba, he brought in an outstanding youth jazz band and facilitated many Bermudian musicians and artists travel to Cuba to teach and or take classes. During his term in office [2003-2009] he started the dynamic "Heartbeat" series and today has designed "The 10 Wonders of the Heartbeat of Hamilton." He has just completed "Cultural Centre" No. 1—dedicated to Bermuda entertainers at his residence [35 Angle Street, Pembroke] which will officially open once Covid numbers recede.

Read More About
Category: All, Entertainment, Music, News