In celebration of the World Asthma Day, Open Airways launched the Medication Assistance Fund, which is aimed at providing financial assistance to anyone with asthma or COPD who is experiencing economic hardship during the Covid-19 pandemic so that they will be able to purchase their prescribed inhalers to control their asthma or COPD.
A spokesperson said, "World Asthma Day is celebrated around the world every year on the first Tuesday in May. This year due to the current Covid-19 pandemic the celebrations may have changed but it is perhaps more important than ever to acknowledge World Asthma Day.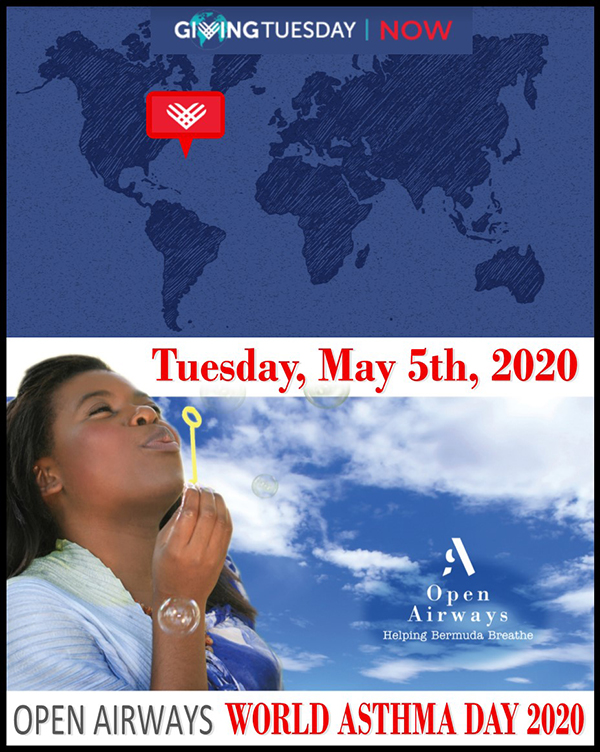 "Open Airways usually marks World Asthma Day by holding an event on the City Hall steps in Hamilton. Last year it was a busy day with many dedicated volunteers providing help and education to over 100 individuals with asthma. Unfortunately, this year our plans have had to change due to the Covid-19 pandemic, but we still want to take this opportunity to bring our message to Bermuda.
"Well controlled asthma is your best defence against potential complications from the Coronavirus.
"People with asthma are no more likely than anyone else to contract coronavirus but they may be more susceptible to complications if they do get Coronavirus. There was some good news in a recent report in the New York Times which reported: "State officials said only about five percent of Covid-19 deaths in New York were of people who were known to also have asthma, a relatively modest amount."
"This sounds like some good news for people with asthma but not the time to let our guard down. Taking your preventer asthma inhalers as prescribed every day is the best way to control your asthma and so provide you with the best protection.
Free Consultations
"Open Airways nurses Liz and Tracy are available for free consultations via email, phone or video links and can help individuals with questions about their asthma and asthma medications. Too many people still rely on relief/emergency inhalers [Ventolin] only to control their asthma symptoms and could be making their asthma worse.
"Contact Tracy nurse@openairways.com or Liz liz@openairways.com for help with your asthma.
"Open Airways nurses have seen a large increase in the amount of queries and questions regarding asthma control and specifically which inhalers someone should be using. Our nurses and are keen to provide the help needed and thus improve the quality of life for many people with asthma.
How to use inhalers.
"Anyone with asthma needs to understand their medications, know when to take them and very importantly know how to take them. Using inhalers can be difficult and instructions will vary depending on which inhaler someone is using, so it is very important that inhaler technique is checked at every opportunity.
"During our free consultations we can advise on medications and asthma management which includes an 'Asthma Action Plan", this is a written guide on how to manage asthma daily and what to do if your asthma is getting worse. We teach people to recognise when their asthma is getting worse and how to "fine tune" their asthma treatment.
Nebuliser or Spacer?
"Too many people think emergency treatment at KEMH via a nebuliser is the way to deal with asthma attacks, but the reality is that this shows a failure of their asthma management. Many mild asthma attacks can be treated with relief/emergency inhalers and a spacer instead of using a nebuliser, resulting in less side effects from over treatment, quicker treatment and better outcomes for all.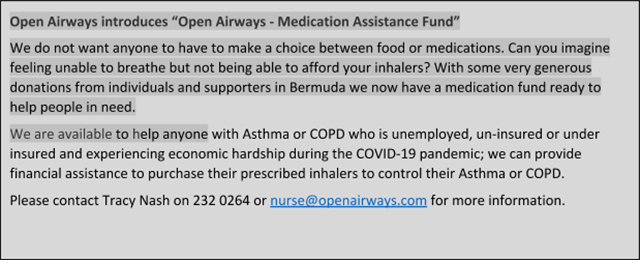 Global Day of Giving
"Tuesday May 5th has also been designated "Global day of Giving". In celebration of World Asthma Day and the Global Day of Giving we are asking you to "make a difference" and donate now to Open Airways to support our work here in Bermuda.
All donations received will go towards our work in the community supporting people with Asthma or COPD during the Covid-19 pandemic, and beyond.
"Please visit our website www.openairways.com for instructions on how to donate."

Read More About
Category: All