[Updated] Triathlete Magazine, the leading international publication for triathletes, cast Bermuda in a starring role for its annual swimsuit issue, which hits newsstands on June 9th.
Flora Duffy, Bermuda's own two-time Olympic triathlete, is a reader of the magazine and is impressed with the latest issue after getting an advance peek.
"Bermuda photographs so beautifully and looks really good in the magazine," Ms Duffy said. "Triathlete Magazine is known as one of the main resources in the sport.
"This exposure shows off the island to a group of athletes who travel a lot and especially enjoy places with naturally beautiful landscapes and exciting outdoor activities."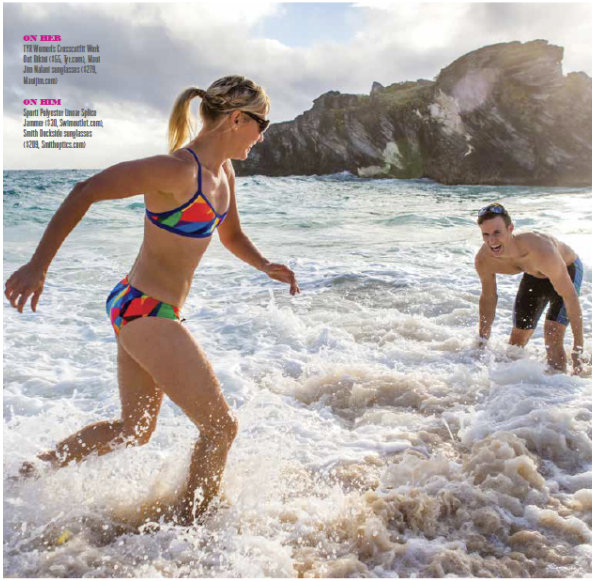 After pitching and planning with the Bermuda Tourism Authority [BTA], the Triathlete Magazine photo shoot took place over a five-day period in January at various locations, including Grotto Bay Beach Resort.
A destination guide accompanies the feature, highlighting a number of Bermuda's top restaurants, resorts and activities. In addition to the multi-page feature in the print magazine, images and behind-the-scenes videos from the shoot will be available online in late June.
"With its miles of stunning pink-sand beaches and crystal-clear water, Bermuda was the ideal locale for our annual Triathlete swimsuit photo shoot," said Bethany Mavis, managing editor of Triathlete Magazine.
"Once we arrived, our crew was pleasantly surprised by the island's vibrant triathlon community and warm hospitality."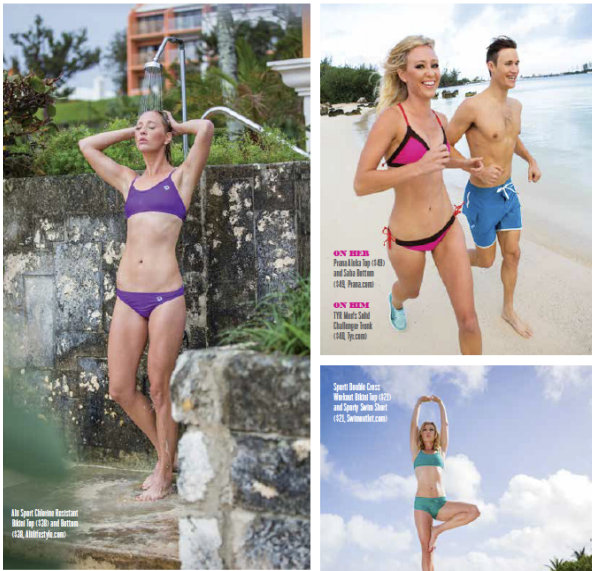 "We are thrilled to celebrate Bermuda's beauty and strength – alongside the beauty and strength of the amazing athletes featured in Triathlete's swimsuit issue," noted Victoria Isley, chief sales and marketing officer for the BTA.
This is one more example of how Bermuda collaborates on-island and off-island to reach active, adventure-seeking travellers."
"This program extends from the pages of the magazine into video and the publication's extensive social channels, inviting travellers to see and experience the island in a new, exciting light."
Triathletes are fanatics about their training, according to Ms Duffy, and often can't resist a run, swim or bike ride while on vacation.
"When I'm on vacation with my boyfriend we always go for a run somewhere; it's an excellent way to see the destination," she explained. "I think athletic people in general have the same mindset when they travel and Bermuda is doing a good job appealing to those adventurous, outdoorsy sensibilities."
Triathlete Magazine is known for embracing not only Bermuda's beautiful scenery, but also its athletes, with Flora Duffy and Tyler Butterfield, as well as his wife Nikki, gracing the publication's pages over the years.
In 2012, the Butterfields covered the magazine's April offering, as the issue asked, "Juggling with parenthood? How the pros [like Nikki and Tyler Butterfield] make it work."
In early 2014, Tyler Butterfield was again featured by the magazine, with the international publication spotlighting his second place showing at the Ironman Cozumel in Mexico in late 2013.
Finally, in 2014, Bermuda's Flora Duffy was featured twice by the magazine, including a look at her resurgence after she claimed a string of XTERRA victories in Utah, South Africa, Nevada, Australia and Alabama, and an official nod as "Most Impressive Crossover" in the publication's Best of 2014 Awards.
Update: A look at the 2015 Triathlete Magazine swimsuit issue, set in Bermuda, is below [PDF here]
Read More About
Category: All, Entertainment, News, Style & Beauty