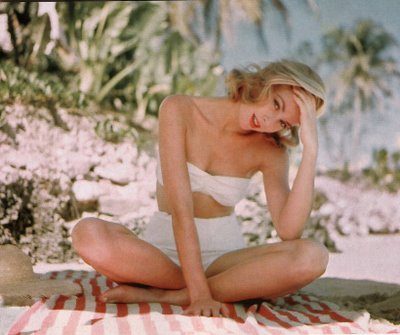 She was Hollywood royalty before becoming the genuine article by marrying Monaco's Prince Rainier in 1956 — but just a few years earlier aspiring actress Grace Kelly was paying her way through drama school by accepting modelling assignments, including one in Bermuda in 1949.
Her fairytale marriage to Prince Rainier was billed as the "Wedding of the Century" by the press and she wore one of the most elegant and best-remembered bridal gowns of all time.
But on her Bermuda shoot — modelling honeymoon fashions for a British Pathé newsreel report — her wardrobe was entirely more modest, consisting of the casual and evening wear a middle class post-World War Two American bride might expect to take with her to the island after her nuptials.
Of Irish and German descent,  Grace Kelly [1929-1982] was born in Philadelphia and began modelling with her mother and sisters as a teenager at local fashion events.
Because of low mathematics scores, shey was rejected by Bennington College in July 1947. To the dismay of her parents—her father viewed acting as "a slim cut above streetwalker"— Grace Kelly decided to pursue her dreams of a career in the theatre.
Grace Kelly sailing in the Great Sound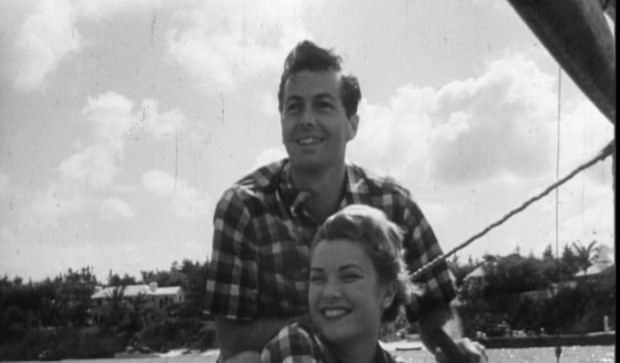 Accepted into the American Academy of Dramatic Arts in New York, she lived in Manhattan's Barbizon Hotel for Women — a prestigious establishment which barred men from entering after 10 pm — and worked as a model to support her studies.
With her blonde hair, porcelain complexion, blue-green eyes, and 5'8" perfect poise, Grace Kelly became one of the highest-paid models in New York City at the time.
After graduation from the Academy in 1949, Grace Kelly appeared in two plays at the Bucks County Playhouse in New Hope, Pennsylvania, and then in her first Broadway play, The Father. Kelly received good reviews for her "essence of freshness." She retained an agent, Edith Van Cleve, and began acting in television dramas in 1950, including the "Philco Television Playhouse" and the "Kraft Theatre".
Grace Kelly on a rented bicycle outside the Princess Hotel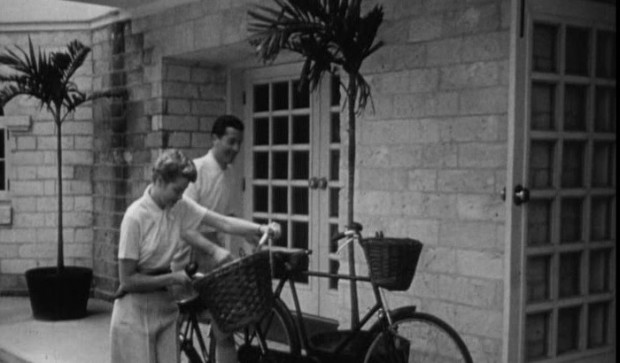 She made her film debut in a small role in the 1951 film Fourteen Hours. She was noticed during a visit to the set by Gary Cooper, who subsequently starred with her in High Noon.
The veteran leading man — a frequent visitor to the island who had built a Bermuda-style house in Hollywood — was charmed by Grace Kelly and said that she was "different from all these actresses we've been seeing so much of."
In the autumn of 1952, Grace Kelly tested for the film "Mogambo" [1953], enticed by it being filmed in Africa and starring legendary film star Clark Gable.
After the test, shey was offered the part and a seven-year contract at MGM. The film was nominated for two Oscars: Best Actress for Ava Gardner and Best Supporting Actress for Grace Kelly. Neither actress won, but Grace Kelly did win a Golden Globe for Best Supporting Actress.
Grace Kelly cycling along Pitts Bay Road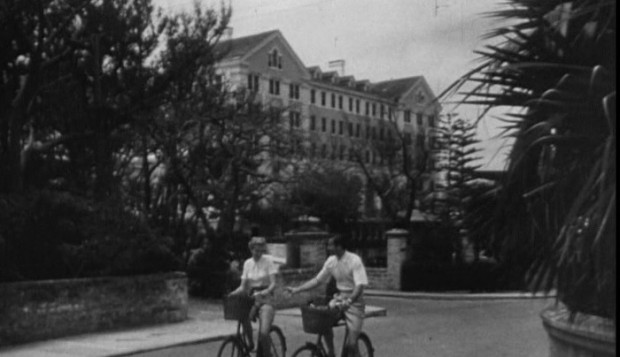 By the 1950s, director Alfred Hitchcock had made a name for himself in Hollywood making suspenseful motion pictures featuring very cool blondes as his leading ladies
She followed this part with a role in another Hitchcock picture, "Rear Window" [1954] and then made two films back-to-back for MGM –  "The Country Girl", in which played the wearied wife of an alcoholic, and "Green Fire."
"Green Fire" was a box-office failure but "The Country Girl" was a critical and box-office success and Grace Kelly won the Academy Award for Best Actress.
In 1955 she accepted another assignment from Alfred Hitchcock and flew to the French Riviera to star alongside Cary Grant in "To Catch a Thief" [1955].
That spring,  while attending the Cannes Film Festival, Grace Kelly was asked to appear in a photo session at the Palace of Monaco with Prince Rainier III. She obliged and met the prince.
Grace Kelly in the back of a Bermuda horse-drawn carriage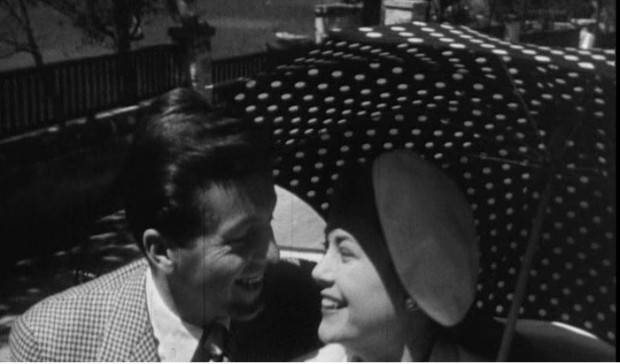 They discovered they had a lot in common; both were uncomfortable celebrities, devout Catholics, and desired a family.
A whirlwind romance ensued an the royal wedding of 26-year-old Miss Grace Patricia Kelly to 32-year-old His Serene Highness Prince Rainier III of Monaco was held in that tiny principality on April 19, 1956.
The Prince and Princess of Monaco had three children: Princess Caroline, born 1957; Prince Albert, born in 1958; and Princess Stéphanie, born in 1965.
In addition to motherhood, Princess Grace, as she was known, supervised the renovation of a crumbling medical facility into a first-rate hospital and founded the Princess Grace Foundation in 1964 to help those with special needs. Princess Grace of Monaco became loved and cherished by the people of her adopted homeland.
She and Prince Rainier paid at least one private visit to Bermuda in the 1970s to stay with friends.
Princess Grace began suffering from severe headaches and abnormally high blood pressure in 1982.
Grace Kelly on a Bermuda buggy ride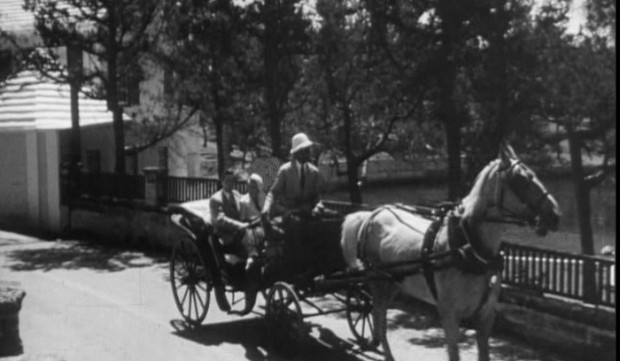 On September 13 of that year, Princess Grace and 17-year-old Stéphanie were returning to Monaco from their country home, Roc-Agel. Princess Grace, who was driving, blacked out for a second.
When she came to, she accidentally pressed her foot on the accelerator instead of the brake, driving the car over an embankment.
As the women were pulled from the wreckage, it was discovered that Stéphanie had sustained minor injuries  but Princess Grace was unresponsive.
She was placed on mechanical life support at the hospital in Monaco. Doctors concluded that she had suffered a massive stroke, which had caused irreversible brain damage.
The day following the accident, Princess Grace's family made the decision to remove her from the artificial devices that were keeping her heart and lungs going. Grace Kelly died on September 14, 1982, at the age of 52.
Brief footage of Grace Kelly on Bermuda modelling shoot begins at the :57 mark
Read More About
Category: All, Entertainment, Films/Movies, History, Photos